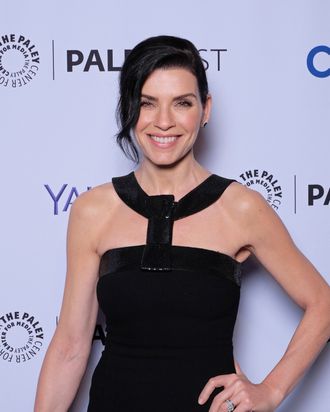 Julianna Margulies arrives at PaleyFest LA.
Photo: PaleyFest
For fans of The Good Wife, it's been nothing but white-knuckled prayers for Saint Alicia. But on Saturday night at PaleyFest, Julianna Margulies hinted that Florrick would get her vindication soon enough. "I think what you will see — if she wins — I'm speculating," she told Vulture, backtracking. "You would see more of a competition between her and her husband, because she's in his world. I can't tell you more because I don't want to ruin it, but it gets really good, and there is that weird competition between the two."
During the Q&A panel with co-creators Robert and Michelle King, Christine Baranski, and Matt Czuchry, Margulies got ahead of herself again. "Working with David Hyde Pierce was incredible. He did a six-episode arc, but he'll come back," she said, eliciting a gasp from the audience. "He's such an interesting character," she added in an attempt to shut off the spoiler alert. It's not clear in what capacity Pierce's character Frank Prady would return (as the new State's Attorney or back to his old job as political commentator), but whatever it is, we're ready for it. Gasps and all.