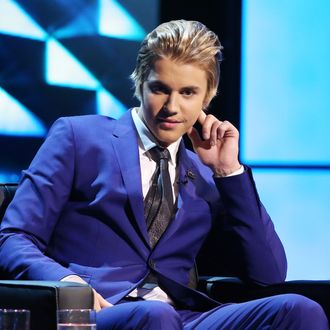 Justin Bieber at his Comedy Central roast.
Photo: Michael Tran/FilmMagic
Justin Bieber's former neighbor has filed a lawsuit seeking more than $25,000 in damages for assault and battery, emotional distress, and trespassing claims, according to the Associated Press. Jeffrey Schwartz says that over the course of Bieber's stay in his gated Calabasas, California, community, the pop singer took advantage of neighbors by hosting loud parties, smoking a lot of pot, and having his bodyguards intimidate naysayers. The Biebs also allegedly spit on Schwartz two years ago, after a confrontation about reckless driving. At the time, Bieber apparently was under the impression that he was either a camel or that the world and its inhabitants were his personal spittoon. Tragically, neither were true, but that didn't stop the bad behavior. Bieber then egged the man's house. Afterward, the singer was charged with vandalism and had to pay the family $80,000 in restitution.
TMZ adds that Bieber's bodyguards called Schwartz "little Jew boy." And the lawsuit states: "During his continued residence at the property … Mr. Bieber and his employees, agents and acquaintances continued to harass, threaten and intimidate plaintiffs and their family at every opportunity without justification, basis, reason or excuse." Yikes.
If there's good news in any of this, it's that it looks like Bieber, 21, is trying to emulate Kanye by crafting a new, media-friendly, more charismatic persona. He ended his Comedy Central roast last weekend by saying, "The things that I've done really don't define who I am. I'm a kind-hearted person who loves people, and through it all, I lost some of my best qualities. For that, I'm sorry. … What I can say is I'm looking forward to being someone who you guys can look at and be proud of." Here's to hoping Bieber 2.0 is nicer to his next neighbors.