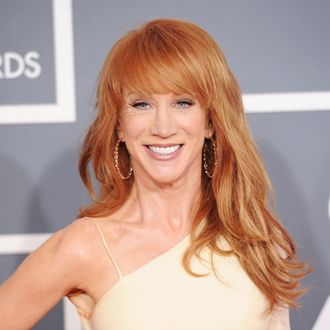 Kathy Griffin.
Photo: Jason Merritt/Getty Images
Kathy Griffin is the latest panelist to leave E!'s Fashion Police. The comedian made the announcement via Twitter on Thursday, saying that after seven episodes she realized her brand of humor did not fit the show. "There is plenty to make fun of in pop culture without bringing people's bodies into it," she wrote. "But I do not want to use my comedy to contribute to a culture of unattainable perfectionism and intolerance towards difference." Here's her full statement:
Griffin had joined the show to fill in for Joan Rivers — who died last year following surgical complications — and her exit follows closely on the heels of Kelly Osbourne, who left under more (outright) dramatic circumstances. Last month, co-host Giuliana Rancic said Disney star Zendaya's dreadlocks looked like they smelled of patchouli oil and weed. Unsurprisingly, Rancic and the show — despite an ensuing apology — have received loads of backlash, and it appears it's becoming more and more passé to sit at their table. Osbourne tweeted support to Griffin regarding her decision:
"We can confirm that Kathy Griffin is leaving E!'s Fashion Police," the network said in a statement released to USA Today. "We wish her all the best and are grateful for her time on the show, as well as the many laughs that she gave us all." The show will reportedly continue with Brad Goreski, Rancic, and Melissa Rivers.