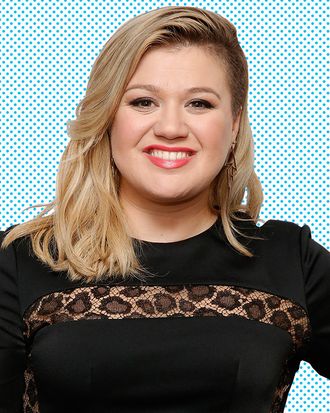 Photo: Robin Marchant/Getty Images
What's not to love about Kelly Clarkson? She was American Idol's first winner — and arguably the most successful one. But that was 13 years ago, when bleach-blonde highlights were still very popular. Today, she has ten Top 10 singles under her belt, a shiny wedding ring on her finger, and three kids at home in Nashville (including adorable baby River Rose, of "Heartbeat" video-teaser fame). Vulture caught up with Clarkson in New York, Texas drawl still intact, to talk about her current album Piece by Piece and her dreams of making it big on Broadway.
Your American Idol debut seems so long ago. What's your life like now?
I live with three children and a husband now, so that's different! If someone had said that to me in my 20s, I would have been like, "Oh my dear God, That's going to be so hectic," but it's actually awesome. I love it. It's nice to have the focus not just on me and my career.
It must still be hectic, though. Do you have time for TV? Do you watch Nashville?
I do. I don't watch it live. I haven't watched any from this season, and that's because I have an eight-and-a-half-month-old and two stepkids. There's a lot of sports in there, and equestrian events and, you know, having a baby. I don't watch it regularly. I don't watch anything regularly. I watch everything on iTunes or DVR, and that's like, past 9 p.m., when the kids go to bed. I have to choose. I like everything, but The Blacklist is leading right now. I watch The Blacklist a lot if I have time.
Why do you like it so much?
I love James Spader's character. He's not a great guy, but he's helping. It's kind of a twist because you don't know if he really is just a bad guy or if he's a good guy posing as a bad guy who's living out that role, trying to catch all the other bad guys. You don't know! That's the whole thing about it. It keeps you guessing. I love that.
Recently you've discussed your aspirations to be on Broadway, which is amazing. Is there a classic role you see yourself in? 
Well, unfortunately, the classic Broadway roles I like are, like, Funny Girl, but that's a hard act to follow. I'd love to do something new, which takes more time and you're here longer. But I don't mind that. I love New York! I would love to do something from the ground up just because it would be interesting to be able to create the role the first time around and not have to either try and not imitate or try to imitate someone. That can be hard.
Do you listen to show tunes at home?
Oh my God, actually I can't talk about it because it's not my record and it's not my project, but it's coming out — I got to do something with some artist that you would never probably expect me to sing with, but I loved it because it was from a musical. It's one of my favorites, and I got to showcase a different side of my voice. It kind of made it worse, though, my whole desire to do Broadway. I think I would do really well at it, that's why I want to do it. I'm excited about the adventure of doing a live show everyday, and each show is different although it's the same script. I love that.
Who is your favorite Broadway actress?
I'm a big Bernadette Peters fan. I love that she's played so many different roles but she always embodies this powerful character. She's so epic onstage. You're captivated by her in whatever she's doing. She seems to pick powerful roles, and I love that because that means that the songs will be that much more dramatic.
What did you think of Lady Gaga's Oscar performance?
I loved it. As an artist, it's nice to see people step outside of their box. Even the Grammys and what she did with Tony Bennett, I loved that. You don't really get to hear singers often. I think my best performance on the Grammys was when I did a tribute because I got to sing classic songs. I did Carole King and Patti Page, and it was fun to get to just sing and not worry about it being formulaic or fitting in.
Speaking of stepping outside of your box, there are a lot of traditional pop and dance hits on Piece by Piece, but you're also working on a country album?
Yeah. People are really shocked by that, but I love country music. I love R&B, too. I've been talking to my friends about making an R&B album as well. I just love music and feel like you shouldn't be limited. If you love it and it's not forced and it happens organically, why not? Artists, writers, and singers don't like just doing one thing, you know? We like to switch it up. And if you're lucky enough to have a fan base to follow you, that's the key.
Alright, so what's next?
We are touring in the summer and working on the next project while we're doing this one because I'm always doing that. I'm just excited to see what the future holds because this was the last record of my contract, so it will be interesting to build another contract and make sure that musically, I get to be adventurous and make sure whoever's working with me is supportive of that.
Would you ever be a judge on American Idol?
Totally! I mean, what better person to do it! It can happen! I think there's a plethora of talent coming from shows like that, and it's very hard right now to actually be successful because there are so many winners of The Voice or American Idol or America's Got Talent, all of these shows. I enjoy talent shows, I enjoy being entertained, and I enjoy giving people a chance that maybe they wouldn't have had.