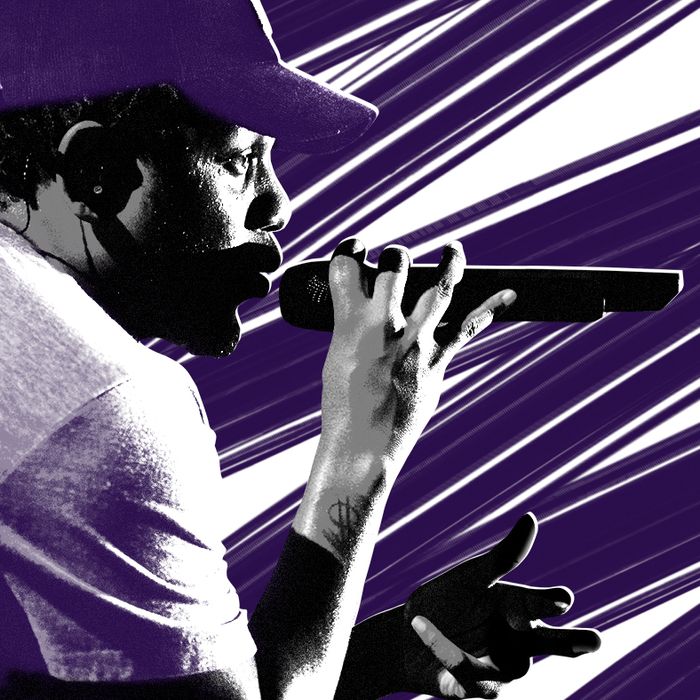 Photo: Maya Robinson and Photo by Christopher Polk/Getty Images
This article first ran shortly before the release of To Pimp a Butterfly. In honor of Kendrick Lamar's fourth album, DAMN., out now, we've updated it to include songs from TPAB and onward.

Its been two years since Kendrick Lamar released his expansive opus, To Pimp a Butterfly, and now he's dropped the tightly wound DAMN., so it feels like the perfect time to reexamine some of his finest lyrical work to date (not including anything from DAMN.). We present Kendrick's best verses, including mixtape cuts, album tracks, cyphers, one-off songs, and features.
20. Kendrick Lamar, "Untitled 02," untitled unmastered, Third Verse (2016)

Key lines: "I can put a rapper on life support / Guarantee that's something none of you want / Ten homies down and they all serving life / What is it like twenty-five hundred a month? / What if I empty my bank out and stunt? / What if I certified all of these ones? / Bitch I get buck, I'm as real as they come."
Over the course of his still-young career, Kendrick has continuously fired warning shots at his competitors. This isn't even his greatest potshot (see everything below), but it's still enough for Kendrick's peers to dodge the bullets. A line like "I can put a rapper on life support" would be a mild threat coming from lesser rappers, but knowing what we do about Kendrick's own admissions of his violent past makes this read more like a chilling promise if ever tempted.

19. Kendrick Lamar, "Hood Politics," To Pimp a Butterfly, Second Verse (2015)

Key lines: "From Compton to Congress, set trippin' all around / Ain't nothin' new, but a flu of new Demo-Crips and Re-Blood-licans / Red state versus a blue state, which one you governin'? / They give us guns and drugs, call us thugs / Make it they promise to fuck with you / No condom, they fuck with you, Obama say, 'What it do?'"
We didn't know it at the time, but we heard part of "Hood Politics" before we ever knew the song existed. Kendrick freestyled this verse first on the radio over a medley of Biggie instrumentals. This was long before the election went nuclear, but even then Kendrick knew danger was lurking. He likens partisanship to gang affiliation and admonishes their hypocrisy, even putting a target on then-president Obama's back. No one's safe under Kendrick's watch.
18. Beyoncé feat. Kendrick Lamar, "Freedom," Lemonade, Third Verse (2016)
Key lines: "Ten Hail Marys, I meditate for practice / Channel 9 news tell me I'm movin' backwards / Eight blocks left, death is around the corner / Seven misleadin' statements 'bout my persona / Six headlights wavin' in my direction / Five-O askin' me what's in my possession."
This verse works as a cousin of "Twelve Days of Christmas," if, say, the original were a countdown to the black apocalypse. Not everything Kendrick raps is about being a black man in America, but his blackness seeps through every word. "Freedom" was the "Alright" of Lemonade and, while it would've served its purpose well enough without Kendrick (as you saw in its visual), he only further punctuates Beyoncé's message of resistance with a breathless numbered list of anecdotal grievances.

17. Big Sean feat. Jay Electronica and Kendrick Lamar, "Control," Second Verse (2013)
Key lines: "I got love for you all, but I'm tryna murder you niggas / Trying to make sure your core fans never heard of you niggas / They don't wanna hear not one more noun or verb from you niggas."
This verse, perhaps even more than GKMC, is what made Kendrick hip-hop's most dangerous voice. Diss tracks are a rapper's bread and butter, but few address competitors by name and chew them out one by one with such murderous conceit. "Control" is arguably Kendrick's best-known song (sorry, Big Sean). It's not necessarily one fans will repeat word for word or even regularly play back, but it's his most memorable manifesto: the birth of King Kendrick.
16. Schoolboy Q, Jay Rock, Ab-Soul, Isaiah Rashad, and Kendrick Lamar, BET Cypher, Fifth Verse (2013)
Key lines: "I'm way more polished than 99 percent of the scholars you thought had graduated / I'm the master that masturbated on your favorite emcee / Until the industry had wanted me assassinated."
Rumor has it, Kendrick came up with this entire verse on the spot, which is almost unheard of in today's read-lyrics-off-my-iPhone freestyle culture. If you thought his "Control" verse was harsh, Kendrick upgraded from a handgun to an AK-47 with this one — and he uses that Mobb Deep beat to his best advantage.
15. Game feat. Kendrick Lamar, "The City," The. R.E.D. Album, Fourth Verse (2011)
Key lines: "'Compton!' a nigga gotta scream that shit / Never went commercial, never TV-screened that shit / Can't block or screen that shit, now everybody sing that shit."
Kendrick's received many a cosign from West Coast rap's elite, and Game is no different. This is his opus to their city of Compton, but not only does Kendrick steal the show on the hook, he has the song's best verse. He's become such a poster child for making it out of the city alive that the music even stops for him. Kendrick fires off his anthemic verse mostly a capella at such lightning speed it'll leave you dizzy.
14. Kendrick Lamar feat. James Fauntleroy, "How Much a Dollar Cost," To Pimp a Butterfly, Third Verse (2015)

Key lines: "Guilt trippin' and feelin' resentment / I never met a transient that demanded attention / They got me frustrated, indecisive and power trippin' / Sour emotions got me lookin' at the universe different / I should distance myself, I should keep it relentless / My selfishness is what got me here, who the fuck I'm kiddin'?"
Kendrick Lamar is the consummate storyteller, and on "How Much a Dollar Cost," he wrestles with how fame forces a level of cynicism that renders empathy a liability by constructing a complex Biblical narrative. In short, he meets with a beggar who's revealed to be God in the flesh. The encounter sparks an especially introspective section where Kendrick begins to reset his moral compass by considering if you can put a price on humility. (A sign of songs to come, apparently.) No wonder this was Barack Obama's favorite song of 2015.
13. Kendrick Lamar, "Swimming Pools (Drank)," good kid, m.A.A.d city, Second Verse (2012)
Key lines: "The freedom is granted as soon as the damage of vodka arrived / This how you capitalize, this is parental advice / Then apparently I'm overinfluenced by what you are doin'."
Only Kendrick can write a song about sexual temptation and all the ways alcoholism corrodes the mind, then turn it into a club banger. You probably heard this song for the first time at a bar, played it back at home, and felt bamboozled. This song is at its best in the second verse, when Kendrick experiences a sort of Gollum/Sméagol complex and spars with his conscious about taking just one more shot.
12. Kendrick Lamar feat. Assassin, "The Blacker the Berry," To Pimp a Butterfly, Third Verse (2015)
Key lines: "I'm African-American, I'm African / I'm black as the heart of a fuckin' Aryan / I'm black as the name of Tyrone and Darius / Excuse my French, but fuck you — no, fuck y'all."

Kendrick has never really spoken this explicitly about race. Many interpreted the song as a response to Azealia Banks's criticism about his comments on Ferguson, and maybe it is, but it hits deeper. It doesn't feel as reactionary as that theory would suggest (though maybe Azealia's what drove him over the edge), but rather a laundry list of grievances against America's horrendous history of race relations that's long been gestating in Kendrick's bones. Either way, the timing couldn't have been better.
11. Kendrick Lamar, "Sing About Me," good kid, m.A.A.d city, Third Verse (2012)
Key lines: "And I'm not sure why I'm infatuated with death / My imagination is surely an aggravation of threats / That can come about, 'cause the tongue is mighty powerful / And I can name a list of your favorites that probably vouch / Maybe cause I'm a dreamer and sleep is the cousin of death / Really stuck in the schema of wonderin' when I'mma rest."
Part of what's made Kendrick Lamar one of the greatest storytellers hip-hop's ever seen is his ability to communicate even the most cautionary of tales from his life in Compton with dignity. You never get the sense that Kendrick's passing judgment on the lives he's seen destroyed by gangs and prostitution — he's trying to make sense of it all. He sees himself in Dave and his brother, and in Kiesha and her sister in the song's first two verses, and to end the song's devastating first half, Kendrick tries to make peace with their demise by wondering about the inevitability of his own.
10. Kendrick Lamar, "Hol' Up," Section.80, Second Verse (2011)
Key lines: "As a kid I killed two adults, I'm too advanced / I lived my 20s at 2 years old, the wiser man / Truth be told, I'm like 87."
Kendrick's lived a life rocked by the "ghetto blues," and at 27, he's seen more than most will in a lifetime. But it's not just what he's seen that makes him so sympathetic, it's also what he's done … and what he's capable of doing. This is one of the first times we hear Kendrick confess to having killed, and whether or not that's true is anyone's guess, but it's telling of Kendrick's character and candor. There's no manufactured aspirations of gangbanging to be had here, it's just bullet holes and compromised morals that he can't shake. He ends the verse screaming (not literally) for help.
9. Drake ft. Kendrick Lamar, "Buried Alive Interlude," Take Care, First Verse (2011)
Key lines: "Looking in the mirror, I'm embarrassed / I'm feeling like a suicidal terrorist / React like an infant whenever you are mentioned / Mind over matter never worked for my nemesis."

Most probably don't think Kendrick Lamar and Drake have a lot in common. On the exterior, that's true. But their private thoughts and "vices," as Kendrick calls them here, aren't all that different. Drake's made a career out of talking about some of his more superficial woes — fame, women he barely knows, money — but all those things affect Kendrick, too. And he interrupts Drake's own album to map out the two rappers' parallel trajectories with a barely lucid story about how he perceives his adversary.
8. Kendrick Lamar, "Hiiipower," Section.80, Second Verse (2011)

Key lines: "I'm standing on the field full of land mines / Doing the moonwalk, hoping I blow up in time / 'Cause 2012 might not be a fucking legend / Tryna be a fucking legend, the man of mankind / Who said a black man in the Illuminati? / Last time I checked, that was the biggest racist party."
Kendrick has an unreal understanding of the English language, and he flexes it supremely on "Hiiipower," referencing revolutionaries and weaving together anecdotes about institutional racism, sexism, classism, and every -ism one might blame for what he considers our rotting civilization. This is also Kendrick's way of appointing himself his generation's Martin Luther King Jr. and investing in another sort of high power.
7. Kendrick Lamar feat. Dash Snow, "The Heart Pt. 2," O(verly) D(edicated), First Verse (2010)
Key lines: "We used to beefing over a turf, fuck beefing over a verse / Niggas dying, motherfuck a double entendre / And this is Comp-ton, lions in the land of the triumph."
You can't really spotlight any one line from this song. It's performed as an extended stream of consciousness, delivered in what sounds like one long breath — that Kendrick eventually chokes on later in the song — that's deeply personal, even for Kendrick's standards. He talks about his uncle being locked up, confrontations with police, and what's it like to spend some time in the mind of a black man born and raised in Compton for a couple minutes. There's not many metaphors at work here, just reality according to Kendrick.

6. Kendrick Lamar feat. Ab-Soul, "Ab-Soul's Outro," Section.80, Fifth Verse (2011)
Key lines: "You've ever seen a newborn baby kill a grown man / That's an analogy for the way the world make me react / My innocence been dead."
Kendrick does a lot of soul-searching in this song, and he eventually arrives at a limbo in this spoken-word piece. He wants to rectify rapping about "money, hoes, and clothes," but he can't do that without sounding like a hypocrite, and he knows it. The only thing he can do is reaffirm his perspective, which is that of a man who's had to act like a man for longer than he should. This is the toll it's taken on him, and it's a declaration that, because of his strong will, he's dedicated to rapping on his terms — even it makes you uncomfortable.
5. Kendrick Lamar, "Alright," To Pimp a Butterfly, Pre-Chorus (2015)
Key lines: "Wouldn't you know / We been hurt, been down before / Nigga, when our pride was low / Lookin' at the world like, 'Where do we go?' / Nigga, and we hate po-po / Wanna kill us dead in the street fo sho' / Nigga, I'm at the preacher's door / My knees gettin' weak, and my gun might blow / But we gon' be alright."

If this were a ranking of Kendrick's best songs, "Alright" would come out on top. It's an urgent anthem released amid a spike in police brutality against black people that emerged as both the black community's salve and rallying cry at protests across the country. Its "We gon' be alright" chant is what rap history will remember, but we'd all do well not to forget Kendrick's piercing remarks reflecting on what brought us to this defiant affirmation of survival that come directly before it.
4. Kendrick Lamar ft. Gunplay, "Cartoon & Cereal," Bridge (2012)
Key lines: "Now, I was raised in a sandbox, next to you and her / You was holding the handgun, she was giving birth / To a baby boy to be just like you, I wonder what's that worth."
It's a shame "Cartoon & Cereal" didn't make GKMC, because it would've made the perfect supplement to the album's skits involving Kendrick's parents. That album is intensely autobiographical, but it doesn't delve as much into those closest to Kendrick: his mother and father. "Cartoon & Cereal" feels like an extension of that album's cover, a photograph of a young Kendrick with his uncles and grandfather, a scene he describes in this song's standout bridge as a room full of Wile E. Coyotes. The way Kendrick sees it, he never stood a chance. He was born in the wild, where cartoons and cereal aren't promised.

3. Schoolboy Q feat. Kendrick Lamar, "Blessed," Habits & Contradictions, Third Verse (2012)
Key lines: "As the record spinning, you was hearing angels entertain / Every pun intended, that was wicked, coming from your brain / Recognize you listened and you didn't hit the block again / That's because the minute after you had knew you would be slain / Open up another chapter in the book and read 'gain / Story of a gun-clapper really tryna make a change."
Optimistic songs about gang life are hard to come by, but Q and Kendrick know a thing or two about getting out of that lifestyle. Kendrick hits the nail on the head in a verse in which he smartly stresses the last word of every stanza, emphasizing that each day could be your last if necessary action isn't taken to change how you live it. The result sounds like a passing of the torch from Ice Cube's "It Was a Good Day."
2. Pusha T feat. Kendrick Lamar, "Nosetalgia," My Name Is My Name, Second Verse (2013)

Key lines: "Go figure, mothafucka, every verse is a brick, your son dope, nigga / Now reap what you sowed, nigga (Please reap what you sowed, nigga) / I was born in '87, my grandaddy a legend / Now the same shit that y'all was smoking is my profession, let's get it."

Is there a more chilling opening to a verse than, "Do you wanna see a dead body?" Kendrick often sounds like he's about to come unhinged, and he adopts an especially crazed flow here for a re-creation of the first time he smoked weed laced with crack, which he references to explain how it feels to come from a legacy of drug dealing. Of course, he flips that entire narrative on its head and, in one line, makes all of Tony Montana's allure suddenly seem overrated.

1. Kendrick Lamar feat. MC Eiht, "m.A.A.d city," good kid, m.A.A.d city, Second Verse (2012)

Key lines: "Cocaine laced in marijuana / And they wonder why I rarely smoke now / Imagine if your first blunt had you foaming at the mouth / I was straight tweaking the next weekend, we broke even / I made allegiance that made a promise to see you bleeding / You know the reasons but still won't ever know my life / Kendrick a.k.a. Compton's human sacrifice."
Kendrick's most ironclad lyrical performance has him taking us all, as he says, on a "trip down memory lane." But it's more like a descent into Hell. This is Kendrick's memoir, a coming-of-age story of a kid from Compton thrown into a war without even the smallest hope for a cease-fire. We've heard about his kill-or-be-killed mentality, why he feels such a disconnect from his childhood, and how he'd give anything to save as many as he can from following his same path before it's too late. And in "m.A.A.d city," we find out, in detail, the exact moment Kendrick became "Compton's human sacrifice" — with the caveat that it still doesn't mean we know a damn thing about him. It's not only the best song on Kendrick's debut album, but it stands, more than two years later, as the strongest verses of Kendrick's career so far. We can only imagine what else he has in store.