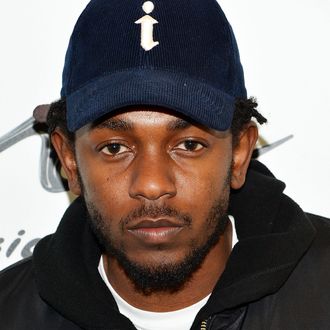 Kendrick Lamar.
Photo: Slaven Vlasic/Getty Images
Kendrick Lamar's To Pimp a Butterfly has found its way onto iTunes and Spotify, one full week ahead of its original release date (March 23). The rapper tweeted the name of his album Sunday, plus a link, to give fans a heads-up; the explicit and clean versions are both available for purchase. If you liked what you've heard so far, this surprise release is probably making you yell dramatic all-caps outbursts like Taylor Swift — even if this whole thing was a mistake. 
Update: As of Monday afternoon, To Pimp a Butterfly has been removed from iTunes and remade available for preorder, with a March 23 release date. (Though TDE's CEO has tweeted that he's "working on" it.) For unexplained reasons, the album is still available to stream in full on Spotify … for now.