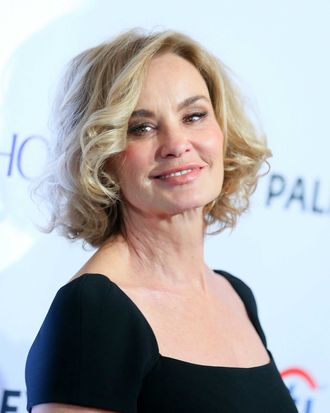 Jessica Lange.
Photo: Mark Davis/Getty Images
The supreme Jessica Lange confirmed during the final panel of PaleyFest last night that she, as feared, will not be checking into American Horror Story: Hotel.
"We've had a great run. I have absolutely loved doing these four characters, and in all the madness, I loved the writers, actors, Ryan, the whole insanity of it, the stories, shooting here, shooting in New Orleans, everything," said Lange, shocked that the moderator asked point blank if she was returning to the FX franchise's fold for season five. "To cut to the chase, yes, I'm done."
She didn't give any concrete reasons for her exit, but did mention on more than one occasion that AHS: Freak Show "was the most special of all the seasons we've done" and an "extraordinary experience." The Emmy winner also recounted her "favorite story of all time," which contained a possible exit explanation of the quit-while-you're-ahead variety. "Months after we finished the third season, I'm walking down the street in New Orleans in raggedy jeans, a dirty T-shirt, and it's like 150 degrees. I walk past this group of young boys sitting on these steps, and as I walk past, they say, 'Holy shitballs. The Supreme.' And I thought, In my 40 years of acting, it's never going to get better than this.'
As in years past, new cast members were announced at the annual L.A. TV festival. Joining earlier addition Lady Gaga were Ryan Murphy mainstays Cheyenne Jackson and Matt Bomer. Unfortunately, the fates of the series' veterans who appeared onstage are still unknown. At least that's the story they are sticking to. Sarah Paulson, who will be tackling the role of O.J. Simpson prosecutor Marcia Clark in Murphy's new anthology American Crime Story, hopes scheduling and shooting conflicts don't force her to give up the belt. "My hope is that we can make both shows work out [because] no one has ever survived but Paulson. I can't ruin that streak now," she told Vulture exclusively on the purple carpet before the program. "Am I pretending that I don't want to be the person that never dies on the show? No, I want the title. I have it now, and I am certainly not ready to relinquish it.
Denis O'Hare, another OG AHS-er, seemed a little closer to a deal to stay in the Hotel. "I don't have [a] 100 percent definitive yes, but I have gotten some strong hints and had some good early conversations," he teased. "And I have a pretty good idea of what I would like to do."
Make your reservations today.