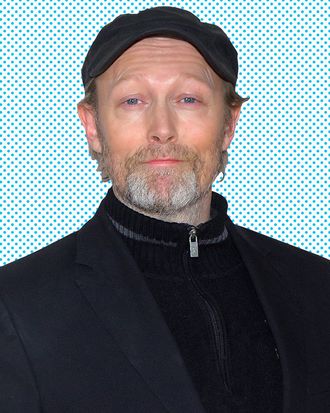 Photo: Christian Augustin/Getty Images
House of Cards has had its fair share of political tyrants, but few have outmatched Frank Underwood the way Russian president Viktor Petrov did in season three. From weeding out all the White House lightweights to impromptu kisses with Claire and mind games overseas, he pretty much had his run of the land. We talked to Lars Mikkelsen about making enemies with the Underwoods, learning Russian, and a possible Hannibal cameo.

What did showrunner Beau Willimon and the writers tell you about the kind of Russian president they envisioned Petrov to be? I imagine the name Putin might've come up a lot.
We didn't want to make an imitation [to Putin]. He's an opponent to Frank, but it's not such an imitation; it shouldn't be. But there are certain similarities.
Are you surprised by the Putin comparisons?
No, of course people will do that. But there's also things about him that are not [like] Putin. At first people will see the comparison, but this guy's much more suave and "man of the world" compared to Putin.

Have you received any backlash from the Russian government or the Russian people for what they might perceive as an imitation of Putin?
No, not at all.
Talk to me about Petrov's relationship with Claire. Do you think he's genuinely attracted to her, or is he just toying with her to get under Frank's skin?
I think, who wouldn't be attracted to Claire? But apart from that, he's using her to play Frank. So he's just as ruthless as Frank is, in that sense. I think that he uses any woman for his purpose. So I don't think it's genuine in that way.
Tell me about working with Pussy Riot.
They're lovely people. I didn't get to do much with them, just one or two small scenes. But they're lovely people. In a real way, they're opponents to that regime in Russia at the moment, so it was fun bringing them in.
Did they give you any advice about playing the Russian president?
No, not really. They knew Putin, of course, and he's a bit tougher than this one. He's colder and more callous in presence than this one, so I think they made that comparison at one point.
During that scene at the White House, Petrov has his people bring out a bottle of vodka for everyone to take shots from, which supposedly costs $750,000 because it's a solid-gold bottle. Do you know if that actually exists?
I think somebody said it did, but it's not that exact one with that name. But there has to be one. Why wouldn't there be? [Laughs.]

We see Frank give Petrov a surfboard as a gift at one point. Do you surf at all?
No. Denmark is like the flattest country on Earth. [Laughs.] I think you could find some waves on the west side of Denmark, but I never tried it.
I think most people who have seen you on House of Cards and Sherlock may not realize you're from Denmark. Was it difficult learning Russian for this role?
Yeah, the dialect and the Russian lines, I had to learn solely for this. I'd never touched that before. It's so difficult! You won't believe it. It's one of the most difficult languages on Earth, I'd say. So I spent a lot of time on that, both the passages and that song and just how to speak Russian. I must have spent months on end at that. The pronunciation is so difficult, and I wanted to get really close to it. But I had a good coach.
You had some intense scenes with Kevin Spacey. What's it like working with him?
Yeah, he's just so good. You just follow his lead. He's one of the top actors in the world, I'd say. I haven't experienced anything like that before. Benedict Cumberbatch and Martin Freeman were also really good to work with [on Sherlock]. So these last few years, I've been blessed with working with some real talent.
One of the more ambiguous story lines in season three involves whether or not Petrov and the Russian administration really were responsible for the attack that killed eight Russian troops, or if that was, in fact, a lie they made up to trick Claire. What do you think?
I like that it's sort of in the air. But personally, I wouldn't think it beyond him to have done it. But I like that it's an unanswered question.
Well, as you said, he's not as ruthless as Putin. I'd like to think he didn't do it.
Yeah, you never know. But all the secrets and unanswered questions buil a character.
Another thing a lot of people might not know about you is that your younger brother, Mads Mikkelsen, currently stars on the show Hannibal. Any chance you'll get to make a guest appearance?
Yeah, he's done a tremendous job on that. But you never know. We've joked around about it. I think it could be fun if he had a cannibal brother!