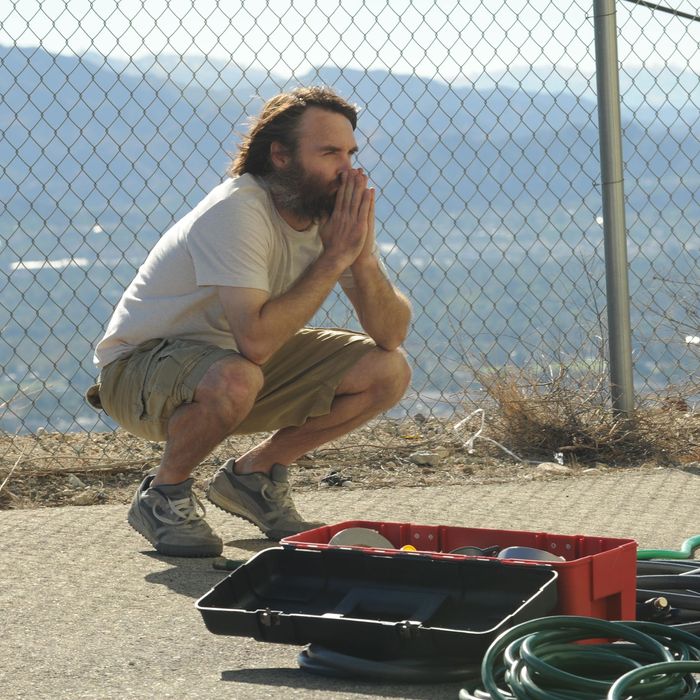 Phil (Will Forte) is determined to solve the water problem in the second half of the "Alive in Tucson/The Elephant in the Room," The Last Man on Earth.
Photo: Jordin Althaus/FOX
They're breaking out the margarita pools today at Fox: The premiere of Will Forte's The Last Man on Earth did shockingly well in the ratings Sunday night. Despite debuting opposite AMC's megahit The Walking Dead, the one-hour bow of the Lord & Miller–produced comedy was last night's No. 1 broadcast series among adults under 50, notching a preliminary 2.3 demo rating and 5.5 million viewers. It crushed the premiere of ABC's Oscar-hyped drama Secrets & Lies in the demo (1.5 rating, 6 million viewers), built on its Brooklyn Nine-Nine lead-in (1.8 rating, 3.6 million), and held onto its audience from half-hour to half-hour. Fox insiders for months have privately worried that Last Man might be "too cable" for a broadcast net, but it may turn out that the show's creative risk-taking ends up helping more than hurting. 
To be sure, Last Man pales next to Fox's new big hit Empire, and its overall numbers won't land it anywhere near the top of the overall Nielsen charts. But its ratings compare favorably to other recent comedy successes on broadcast (The Goldbergs, Mom, Fresh Off the Boat) and are about double what Fox is doing on Tuesdays with New Girl and The Mindy Project. Last Man also figures to get a decent boost from DVR replays (since many of the young males in its target demo were likely watching The Walking Dead live). A cautionary note, however: Fox invested many months and millions of dollars to market the Last Man premiere, and the show's out-there premise (and Forte's casting) likely brought a lot of rubberneckers curious to see what the hype was about. It's very possible the show could take a big dip next week if some weren't sold on the premiere. On the other hand, reviews have been stellar and online buzz strong. Maybe Fox and Forte will be rewarded for taking a big gamble on such an audacious idea.
Meanwhile, CBS also stepped a bit outside of its comfort zone Sunday — and didn't do nearly as well, at least not with younger viewers. The network's Vince Gilligan–and–David Shore–created crime caper Battle Creek had a bigger overall audience than Last Man, attracting 7.8 million viewers and holding onto a big chunk of the audience for The Good Wife (9 million). But viewers under 50 tuned out: Battle Creek notched a 1.0 rating, about 20 percent below what CSI has been averaging in the 10 p.m. hour. That said, Battle kept pace with Good Wife (1.1) in the under-50 demo, so it's not as if the Eye audience rejected the show. It's just that CBS didn't surround the show with a particularly strong lead-in, nor did the Eye market the newcomer as massively as ABC and Fox did with their newcomers. The tepid results, then, aren't that surprising.