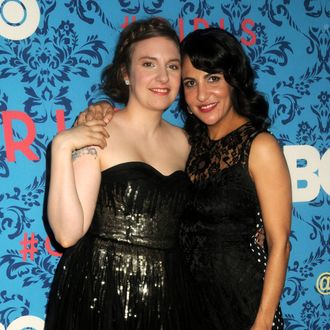 Photo: Johns PKI/Splash News
This post contains spoilers for Sunday night's episode of Girls.
On Sunday night's episode of Girls, Hannah's father, Tad Horvath (Peter Scolari), came out of the closet in what will be a three-episode arc leading up to the finale on March 22. If you recall way back in season one, Hannah's gay college boyfriend, Elijah Krantz (Andrew Rannells), makes a passing reference to her dad being gay. "We've actually been talking about this since the beginning," says executive producer Jenni Konner on the PaleyFest red carpet on Sunday. "If you were to go back and watch with the lens of knowing that, you'd see a lot of references to it, actually. It was something we always thought about."
In response to the fact that Tad's had what seems a fairly healthy sexual relationship with his wife (Becky Ann Baker), Lena Dunham told us:
The thing about human sexuality is it's really complicated. Just because you may be gay doesn't mean you're not totally capable of loving a woman. As we all know, we've seen the fluidity of sexuality and letting that be complex and not saying, 'Oh he's gay so he can't get it up,' but rather, 'He's gay so he's dealing with some really complex issues with his identity that, because of the generation he was born into, he hasn't been able to open up that dialogue.'"
Read more on the backstory of this plotline in our interview with Peter Scolari.