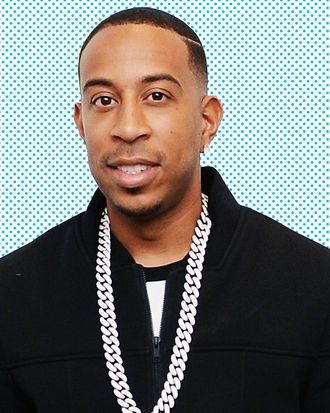 Photo: Stephen Lovekin/Getty Images
Ludacris appears to be everywhere these days. The veteran Atlanta emcee released his ninth album today, the long-delayed Ludaversal. You can also see him at the movies in Furious 7, the latest installment in the Fast & Furious franchise. Before he skipped off to attend an L.A. listening party for Ludaversal, the 37-year-old rapper, actor and Devil Wears Prada enthusiast took a few minutes to answer some questions about the album, the film, and his recent sightings with Republican royalty and bratty young pop stars.
You appear to be all over the place as of late. Didn't I see you hanging out with one of the Bushes recently?
I was getting honored by the House of Representatives in Georgia, and I was on my way out. And there were people taking photos. So I guess [Jeb Bush's camp] turned around and took a photo with us. It was just a photo.
Was there a part of you that was like, "I hope nobody from his camp told him about 'Politics as Usual' [his 2008 pro-Obama tune in which he called Jeb's brother George "mentally handicapped"]. I don't need that shit right now"?
Yeah, man. I was there to be honored about my foundation, and I kept it to giving back to the community. And that was exactly what I was there for. And I was on my way out, my man — it was simple as that. I just wanted to keep the focus on my foundation working, and being a humanitarian and a philanthropist.
You were also at Comedy Central's Justin Bieber roast, where there were some jokes told about your Fast and Furious co-star Paul Walker that you weren't pleased with.
Yeah, there were some jokes that I wasn't too happy with, and I didn't feel like they should have been said, and I was vocal about that. I was assured by the producers and people at Comedy Central that they would take those out. And that's pretty much what happened.
Did it really take you by surprise? After all, it was a roast, and those things are usually no holds barred.
It was inappropriate, and I didn't feel like there should have been any jokes [about that]. The other jokes that they said about Paul Walker I felt were completely inappropriate. So, it's simple as that.
Since we're talking about Walker, was there a point while making Furious 7 where you and the cast wondered if this could be finished after Walker's untimely passing, if you even wanted to finish it at all?
Yeah, there was a part where we didn't even know. We were all still in the mourning process. But I think we all came together, and we were strong for each other. And that's what made us get through it. And that's what made us say we have to carry on this man's legacy and honor him. And I think that's exactly what we did.
Did you ever think while shooting 2 Fast 2 Furious all those years ago that you'd end up being a part of a box-office juggernaut like this?
Nah, I had no idea, man. I don't think any of us did, and I'm very blessed and very humbled to be a part of this cast and this movie, this franchise. I just think that we're making history, and I'm just glad to be a part of it. It's as simple as that.
Just between you and me, when did the whole series go from racing cars to just destroying buildings?
Yeah, I know — there is definitely some crazy stuff going on. But I think that's part of the theatrical experience, and I think people are getting used to that, whether they want to admit it or not. That's what they pay some of the money for.
Let's talk about Ludaversal, which is your first full-length album since Battle of the Sexes in 2010. Why did it take so long to drop another album?
Because I dropped seven consecutive albums, and sometimes you gotta take a deep breath and get some more inspiration and motivation and live some life, so you can be able to write from a personal experience and kind of reinvent yourself a little bit. And that's exactly what happened.
There does seem to be this aggressive push to reinvent yourself on the album. What kind of material were you aiming for while making it?
A lot of subject matter more personal to my life, things that I'm going through. And being very creative with the songs, in terms of trying to stay afloat and kind of do something totally different than the norm of what everybody out here is talking about.  And even when there's a song talking about my father's alcoholism — and that's very personal to me — I figured that maybe there are other people who are going through the same thing. And the message is to make sure you hug your parents and talk to them and tell them you love them, because you never know how long they're gonna be here.
Do you feel you had to drop an album to show people you still understand what rappers are doing today?
[Chuckles.] Some rappers I can understand, some rappers — it is hard. But it's all art at the end of the day, and to each his own. That's why we're able to choose what we want to listen to and what we choose not to listen to. But I'm motivated, and love to even compete against all the new artists. So, whatever I need to do, that's what keeps me going — that competitive level, and embracing what's new, and always being conscious of what's going on.
What can we expect next from the land of Luda?
You know what, man? World domination. [Laughs.] That's the best way to say it. Right now, everything is focused on this movie and this album. So after that, you can just expect more great music and more great movies, man.