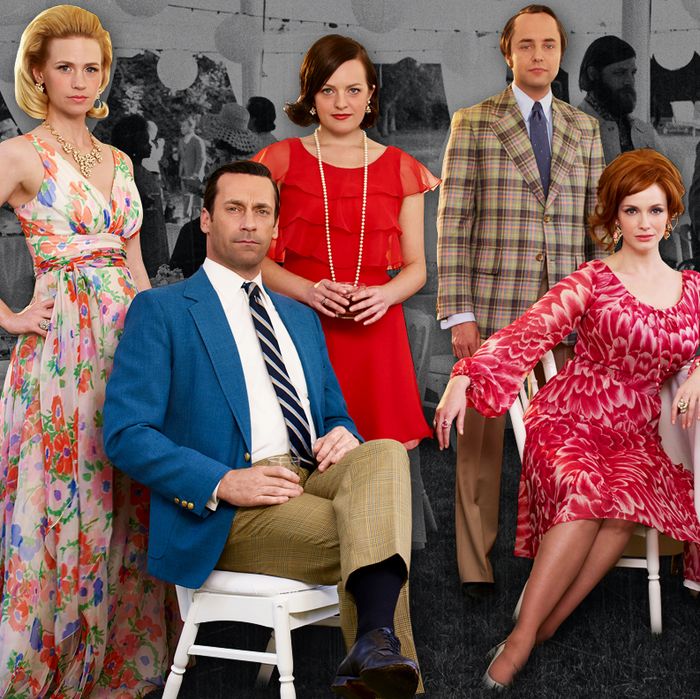 The cast of Mad Men.
Photo: Photo by AMC
Mad Men returns on April 5 for its final season, but its stars have long since hung up their polyester and put away their pomade and reentered the 21st century: Mad Men shot both halves of season seven back to back, which means production has been over for nearly a year. What have these former titans of industry been up to since leaving advertising?
Jon Hamm
As America's handsomest comedy nerd, Jon Hamm has spent his Mad Men post-grad months literally hamming it up. He made a surprise cameo in Unbreakable Kimmy Schmidt alongside his former student Ellie Kemper, playing a charismatic cult leader who was also "Durnsville's worst wedding DJ," and like seemingly every other funny person in Hollywood, he'll appear in Netflix's Wet Hot American Summer reboot. Hamm also continued his string of memorable podcast appearances with a spot on "Never Not Funny" in January, and went on @midnight to talk about his love of cats. But as a recent story about his quest to star in Gone Girl attests, Hamm is still looking for that one perfect film role that will supplant Don Draper for good. (He also recently completed treatment for alcohol addiction, but that's all we'll say about that.)
Elisabeth Moss
Every indie movie wants a piece of Peggy Olson. Since the end of Mad Men, Moss has wrapped four projects: Queen of Earth, a psychological thriller from her Listen Up Philip director Alex Ross Perry; High Rise, a dystopian satire based on the J.G. Ballard novel; Meadowland, a relationship drama with Olivia Wilde and Luke Wilson; and Truth, a retelling of Dan Rather's firing from CBS. She's currently on Broadway starring in the revival of Wendy Wasserstein's The Heidi Chronicles, a role she says made her realize, "There are other great women out there that I'm gonna fall in love with, love playing, and want to be my friend."
Christina Hendricks
Hamm might not have gotten the Gillian Flynn role he coveted, but Christina Hendricks did — she'll soon appear in the film adaptation of Flynn's Dark Places, playing Charlize Theron's murdered mother. She's also playing a mom in Ryan Gosling's Lost River, which is making its way to screens more than a year after it was scourged by critics in Cannes, mainly for being a blatant rip-off of the work of Nicolas Winding Refn. Luckily, Hendricks is set to star in Refn's next movie, too; she'll reunite with the Drive filmmaker in The Neon Demon, a horror film about cannibal supermodels.
January Jones
Jones has already found her big post-Betty gig: She's starring alongside Will Forte and Kristen Schaal in Fox's The Last Man on Earth, playing a character with the very un–Bryn Mawr name of Melissa Shart. Offscreen, she's been killing the #tbt game on Instagram.
Vincent Kartheiser
Kartheiser dealt with the end of Mad Men by leaning into his personal life: He married Rory Gilmore and sold his famous tiny house (presumably for one less tiny). Now that his scalp-stubble has grown back, Kartheiser's also taken roles in the Hollywood satire Day Out of Days and the Patrick Wilson thriller The Blunderer.
John Slattery
If you've got a beloved franchise, John Slattery will cameo in it. Like Hamm, he'll have a role in Netflix's Wet Hot American Summer (he'll play a theater director who comes to Camp Firewood to direct a show), and he's also set to appear in Ted 2 and Ant-Man. One thing Slattery won't be in? Empire, on which he apparently missed his chance to play "some white dude."
Rich Sommer
As the second-biggest comedy geek on the Mad Men set, Sommer has spent his time since production ended doing a lot of the same things as Jon Hamm. He'll be in Wet Hot American Summer: First Day of Camp, and he was a special guest for the 500th episode of the "Never Not Funny" podcast. In February, he fulfilled the childhood dream of every nerdy young man with a small voice role in The Simpsons. If his Twitter is to be believed, he's been playing a lot of Carcassonne.
Kiernan Shipka
The littlest Mad Man is making the jump to movies, with starring roles in the prep-school horror film February and the teen comedy Fan Girl. She recently hung out with Haim, which means her entry to the Taylor Swift friend-verse is only a few Instagrams away.
Jessica Paré
She had a baby! Congrats! She also took her Chihuahua for a walk. More congrats!
Jay R. Ferguson
Ferguson is set to star in ABC's upcoming Dan Savage pilot, and if you thought Stan Rizzo would not make a very convincing Dan Savage stand-in, you're right — he'll play the father, "a good-natured, affable cop with the Chicago police department." That's more his speed. Now that we've answered your first Jay R. Ferguson question, we'll also answer your second: No, he did not keep the beard.
Kevin Rahm
Since Mad Men, Rahm's schedule has been Chaough-ck full of the kind of recurring TV gigs that character actors thrive on. He's popped up in shows like Bates Motel (as a hunting-lodge owner) and Madam Secretary (as a mysterious consultant), and he's been getting better film work, too, playing a cable producer opposite Jake Gyllenhaal in Nightcrawler.