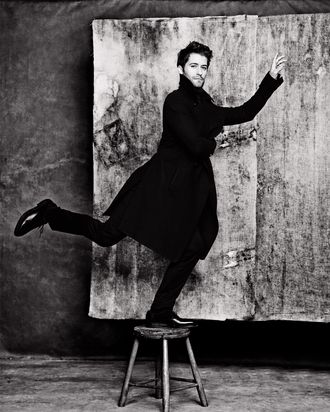 Matthew Morrison stars as playwright J.M. Barrie in Broadway's Finding Neverland.
Photo: Ruven Afanador
It's late afternoon, halfway through a 12-hour-long rehearsal day for Finding Neverland, the musical version of the 2004 Johnny Depp movie about the playwright J.M. Barrie — creator, 111 years ago, of Peter Pan and the Lost Boys, which made his career and also inspired the 1953 Disney animated movie, the 1960 stage-to-screen version starring Mary Martin, the peanut-butter brand, the bus company, the solidly mediocre NBC live event starring Allison Williams last year, and Michael Jackson's ranch (not to mention the so-called syndrome, which describes commitment-phobic arrested development). At the moment, Matthew Morrison, who plays Barrie, is stage right in the 1,505-seat Lunt-Fontanne Theatre, practicing his dance spins.
The previews of Finding Neverland are timed almost exactly to the wrap of Morrison's six-year run as the earnestly encouraging Ohio high-school singing-club coach Will Schuester on Fox's once-game-changing sing-along dramedy Glee. Morrison has traded his Mr. Schue sweater-vest for an Edwardian suit to play this dancing Barrie, whom Depp played with dreamy charm and sincerity, loitering on a park bench and not at all creepily gazing at frolicking boys while writing in his notebook. As we all wait for the scene to start, Morrison will lie down, then sit up on his knees, hands in his lap, in a sort of yogic meditation pose. There's a lot of waiting around between takes during rehearsals.
The real-life Barrie was, by all accounts, an unusual model for a Broadway leading man. His wife left him, saying they never consummated their marriage, and he practically stalked the cancer-stricken widow Sylvia Llewelyn Davies and her five "lost boys" after the death of their father in 1907. After her demise, in 1910, he became their guardian, paying for their educations at Eton and Oxford (one of the boys died young in World War I, and another later took his own life). But Finding Neverland is entertainment, not strict biography, and Morrison, 36, was hired for, among other attributes, his Glee-bred upright-sensitive-guy élan.
Barrie was irresistible in part because it's simply a big lead role, of the sort he was on the path to in his 20s right out of NYU's Tisch school. He had starring roles in Hairspray, The Light in the Piazza (for which he was a Tony nominee for Best Featured Actor in a Musical at 26), and South Pacific. He was well on his way to becoming the sort of leading man Broadway hadn't seen in quite a while. And then Glee sent him back to high school for six years.
"I have this kind of underlying issue of unentitlement," says Jane Lynch, his former Glee onscreen nemesis. "Matt is one of the most entitled people I've ever met, but in the most lovely way. He knows he's got the goods, but he wears it lightly." And Morrison is the sort of person who always seems like he has a plan (he tells me, "We've got our little timeline" about the possibility of him and his wife having kids, and says he makes enough money renting out the apartment he bought in Hell's Kitchen in 2005, pre-Glee, that it "pretty much" pays the mortgage on his new condo).
"This is the perfect project for where Matthew is right now," says the show's director, Diane Paulus, who comes over and sits next to me for a few minutes during a break in the run-through of a number called "Stronger." "He's not the young ingenue hitting the scene anymore. He's older and just got married, and this is the story of a man who is on his journey to becoming a father."
Neverland is being produced by Harvey Weinstein, who has never been the lead producer on a Broadway show before and who got the idea that the decorous film could make a great musical partly because it was his daughters' favorite of the films he's made. The travails of getting this one to the stage have been much talked about in the theater world: Weinstein threw out the first version of it after a tepidly received 2012 run in the U.K. and hired Gary Barlow, of '90s boy band Take That, and Eliot Kennedy, who produced the Spice Girls, among others, to give it a pop-music score. He recruited Paulus, who won a Tony for Pippin and runs the American Repertory Theater in Cambridge, Massachusetts, as well as Morrison, whose agent patched Weinstein through to him while he was on the set of Glee. "You always take a call from Harvey Weinstein," Morrison says. (He also signed on for the forthcoming Weinstein film Tulip Fever.)
It's sometimes hard to remember now, but Glee was, especially in its first two seasons, a little pop-cultural revolution, updating a largely abandoned entertainment idiom of plot-propelling musical numbers for a post-MTV age, giving dancing-in-the-hallways heart to a show that could, for all its affirmational swagger, be jagged and immature. It kind of never really grew up. "The more I look back on the show, I think of it fondly, and I think about all the amazing changes it did for our world," Morrison says, speaking of how it always let its characters express just who they were, or wanted to be (and not just because "it definitely afforded me the lifestyle that I've loved to have"). "I look at arts programs now, and I feel like theater is where the cool kids are, and it's kind of changed. Theater is now accepted more than it used to be." But, he says, "Glee had its heyday, and then it kind of just slowly started declining," ending up on Friday nights, "which no one watches. It's where shows go to die." As he acknowledges: "There were just so many characters. There are a lot of people and a lot of story lines. It's one of the biggest casts on television. They have the New Directions, the original New Directions, and then you have the new New Directions … The new ones didn't really click with people, so they had to start bringing back in the old people."
Lynch's postmortem is similar. "It's like emotional whiplash, my character," she says. "I have that redemption scene with Matt: 'I want to be your friend, I'm jealous of you.' I had that scene six times." In the end, it just became "confusing," Morrison says. "They have so many things that we don't even talk about. Sue having a child. We're always like … I forget the baby's name right now. Where's Wanda, or whatever its name is?" Morrison also didn't know the air date of the last episode off the top of his head.
That rehearsal day, it's time for a costume rendition of "Stronger," in which Barrie, finally confronted with his own imaginatively timid, notebook-scribbling, cosseted sense of self, has a kind of psychic break and conjures Captain Hook — his swashbuckling id — for the first time. (A smoke machine is deployed for this.) But first Hook, played by a lustrously bewigged and hook-handed Kelsey Grammer (that day in running shoes), needs his fake mustache. Apparently it will help him get into pirate mode.
The rehearsal for the number begins with Hook declaring that he's a figment of Barrie's "circus of the mind" ("I came from you …"), while his band of scalawags choreographically move a park bench around onstage and knock Morrison about until he — Barrie — is willing to accept the Hook-y side of himself. It ends, stirringly, with Barrie, now vestless, declaring: "I am stronger," poised atop that bench that doubles in his imagination as a ship, sword aloft.
*This article appears in the March 23, 2015 issue of New York Magazine.