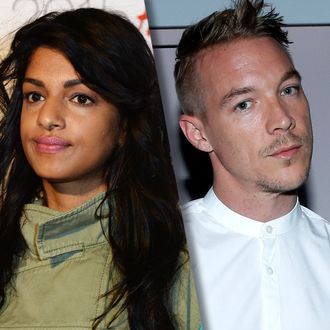 Don't mess with M.I.A.
Photo: David M. Benett/Getty and Rindoff/Dufour/Getty
You might've seen a picture Diplo recently posted on Instagram of him with former girlfriend and collaborator M.I.A. The two looked pretty chummy — the caption read "best friends forever" — and M.I.A. even shared it on Twitter, but the singer still has some very bitter memories of her onetime producer. And she's now opening up about them to Rolling Stone, in a revealing interview for the tenth anniversary of her debut album:
"By the time that was happening to me, I was with Diplo and he basically just like shat on every good thing that was happening to me, and I just didn't enjoy it because if I was on a cover of a magazine he'll be like, "What do you want to do, like be on the dentist waiting room table? Like, is that what a magazine is for? It's corny. Like, don't do magazines.

When I got signed by Interscope, he literally smashed my hotel room and broke all the furniture because he was so angry I got picked up by a major label and it was the corniest thing in the world that could possibly happen … So the whole two years I was with him, I just let him dictate. I basically had this man dictate to me how everything in America that I experienced was completely, like, irrelevant and it was nothing. So it was kind of a weird time for me.

It's only now when I look back at it in 2015, I can see that he was just jealous and he couldn't wait to be Taylor Swift's best friend and date Katy Perry. But at that time I believed him. I just felt like he was right, and he was something of a political, righteous person with some values. I didn't realize it was just jealousy."
Believe it or not, Diplo isn't her only frenemy. She also takes some harsh digs at Oprah, too. Free advice: Don't get on M.I.A.'s bad side.