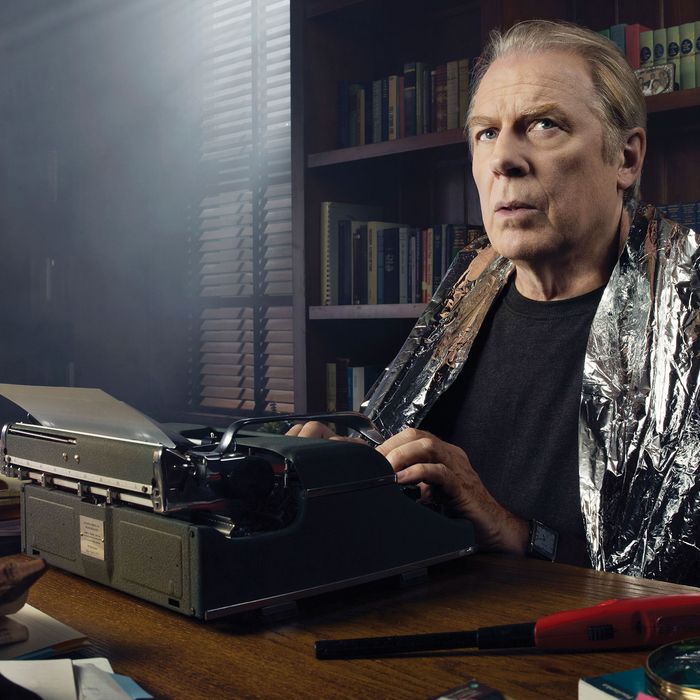 Michael McKean as Chuck on Better Call Saul.
Photo: Ben Leuner/AMC
Michael McKean doesn't get out much these days. Or at least his character Chuck, the lawyer turned recluse brother of Saul Goodman (née Jimmy McGill) on Better Call Saul, doesn't. Still, Vulture caught up with McKean at the Atlantic Theater Company's 30th Anniversary Gala at the Pierre, where he talked about being pulled into the Breaking Bad–centric fandom machine, portraying a mysterious psychological disorder, and what it's like to play a shut-in.
How does one mentally prepare to play a shut-in?
The first time I heard about it was from Bryan Cranston. We were doing All the Way. And he said, "Yeah, I think you're going to get a call from Vince to do this part, but it'll be great because you're only in one room." I said, "What?" and he said, "Yeah, you're kind of a shut-in." He hadn't read much [of it], he had just heard a pitch. And so I said, "That sounds pretty lazy," and he said, "Probably not." But I don't know, I prepare for it the way I would anything else. I figure out what the character wants, and then I go after it.
We're kind of still figuring it out, too, what Chuck's affliction is really about.
Without tipping off too much, because I'm not sure where people are in their viewing, it is a genuine affliction. There are people who are hypersensitive to electromagnetic fields. Just like there are some people who feel cold all the time — my wife, for example! There are some people who will know before lightning strikes that it's coming, because they feel the ionization change in the air. It's technically the same thing as that. I didn't really know anything about it, I just kind of put together what the writers told me and trusted them. 
But from a shooting standpoint, you're right, you are mostly in one room. Couldn't you just bang out all of your scenes in one swoop?
It doesn't work out that way, never does.
As with Breaking Bad, and assuming it'll be with Better Call Saul, even though it's still early on, Bryan Cranston will forever be Walt until he dies. Do you think you guys will become that ingrained in your characters? Have you seen any of that already?
I don't know — I live in Los Angeles and I live in New York. Those are the two cities where there's plenty more going on than me, and I love it like that. I was walking down the street a couple of years ago, and I had just gotten into town, and the weather was amazing, it was October or something — a beautiful night, this is a great city — and I'm stopped at a light and this guy looks over and says to me, "Hey, you're famous, right?" And I just said, "We're in New York, everybody's famous in New York." I don't know where it came from, but I totally meant it. It's my town.