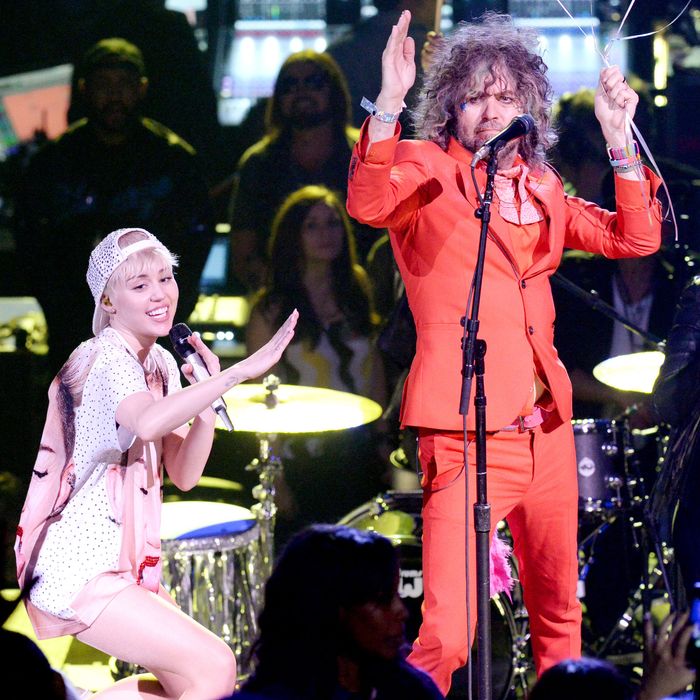 Photo: Jeff Kravitz/Getty Images
In January of last year, Miley Cyrus tweeted a birthday message to Flaming Lips front man Wayne Coyne. "happy birthday to one of my favorite artists OF alllllll time @waynecoyne," it read, followed by a string of celebratory emoji. What happened next no one could have imagined: A very unlikely, very bizarre friendship was born. It has been strange — maybe even a little bit creepy — to observe the relationship between Coyne and Cyrus blossom into full-on BFF status. Coyne is 54, 32 years Cyrus's senior. Fans of both artists have watched with skeptical amusement over the last year. The friendship, while very weird, appears to be the genuine article. Over a year after Cyrus sent that initial tweet, the two pals are still at it, gushing about each other online and during interviews. Earlier this month, Cyrus shared a new video of her singing in the studio, presumably working on the first official full-length Flaming Lips–Miley Cyrus collaboration. Their friendship may be unorthodox, but it was apparently built to last. Here's a brief timeline charting its odd yet entertaining evolution.
January 2014
Mylie Cyrus wishes Wayne Coyne a happy birthday on Twitter and calls him "one of her favorite artists of all time." Surprised and flattered, Coyne reaches out to invite her to spend time with him in the studio.
February 2014
Coyne joins Cyrus onstage in Los Angeles during her Bangerz tour for a special performance of the Flaming Lips' "Yoshimi Battles the Pink Robots." Cyrus calls it "the best night of my entire life." They performed the song twice, back to back.
March 2014
Coyne posts a photo of Cyrus rolling a joint on Instagram with the caption, "Yup……Recordin with Miley… High as f**k…. #flaminglips #theflaminglips #tulsa #lovemoneyparty." Cyrus would later appear on the Lips' reimagining of the classic Beatles album Sgt. Pepper's Lonely Hearts Club Band, which they renamed With a Little Help From My Fwends. Cyrus, one of many contributors, covered "Lucy in the Sky With Diamonds." Coyne was also "pelted with bras" during another special appearance on the Bangerz tour in his home state of Oklahoma.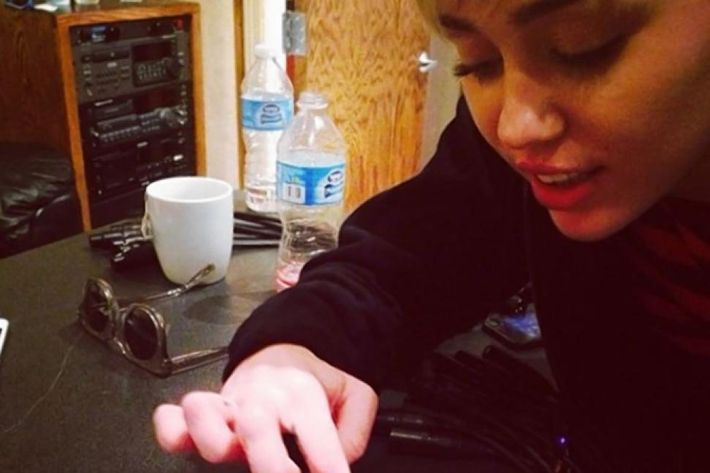 April 2014
After being kicked off Instagram for posting inappropriate content, Cyrus comes to Coyne's defense, posting her own photo with the caption "STOP KICKING @wayneflaminglip69 OFF FUCKING INSTAGRAM! #letsstartariot #hippyriot #freakz." The bonds of friendship mean nothing if they're not passionately demonstrated on the internet.
May 2014
Coyne and Cyrus perform "Lucy in the Sky With Diamonds" during the 2014 Billboard Music Awards. Cyrus fans are not amused, with many of them accusing Coyne of meth abuse, asking him to disappear and calling him a "stupid old man." Cyrus and Coyne are unfazed by the negative criticism. Their next joint project is even weirder.
June 2014
After the death of her dog Floyd in April, Cyrus names her new dog Emu Coyne Cyrus after the Flaming Lips front man.  
July 2014
To commemorate the death of Cyrus's dog and the first official Flaming Lips–Miley Cyrus collaboration, Coyne, Cyrus, and Coyne's girlfriend Katy Weaver get matching chest tattoos with the words "With A Little Help From My Fwends." Cyrus and Coyne also release a five-minute short called "Blonde SuperFreak Steals the Magic Brain." In it, fellow merry prankster Moby stars opposite Cyrus as a Skeletor-like figure who steals a brain. Drugs are involved. (It's also worth noting here that the short was filmed while Cyrus was bedridden after having an allergic reaction to the antibiotic cefalexin.)
August 2014
Cyrus laughs off rumors of a threesome with Coyne and Katy Weaver.
September 2014
Cyrus posts a screengrab of a text message from her father, Billy Ray Cyrus, to Instagram, with a caption comparing the "Achy Breaky Heart" singer to Coyne. "I love my dad @billyraycyrus. I think that's why I love @waynecoyne5 he has so many of the same philosophy's as my dada who is the most magical hillbilly wizard of all time." 
October 2014
With a Little Help From My Fwends is released on Warner Bros. to mediocre reviews. To pay tribute to Cyrus's late dog Floyd, the band announced that proceeds from the album would go to the Bella Foundation, a charity in Oklahoma that provides veterinary care to pet owners in need. Cyrus, Weaver, and Coyne get matching "Yoshimi" tattoos, and Coyne gets an "MC" tattoo on his right foot.
November 2014
Cyrus and Coyne perform the Beatles' "A Day in the Life" on Conan.
December 2014
Cyrus dances to Big Sean and Eminem wearing little more than pasties shaped like marijuana leaves during Coyne's Christmas party at the Womb in Oklahoma. Coyne wears a Santa outfit. They are truly cut from the same cloth.
January 2015
Coyne posts a photo of Cyrus in the new Viva Glam campaign with the caption: "Our gal is ALWAYS doin cool shit!! @mileycyrus … She parties hard … She LOVES harder!!!"
February 2015
Coyne posts a collage of Weaver and Cyrus with the caption, "Yep … Cyrus n K … Coolest gals evva…"
March 2015
Cyrus teases new music on Instagram and tags Coyne. Neither have confirmed whether there's a new album or if it will be a Flaming Lips or Miley Cyrus record, but Coyne told Billboard: