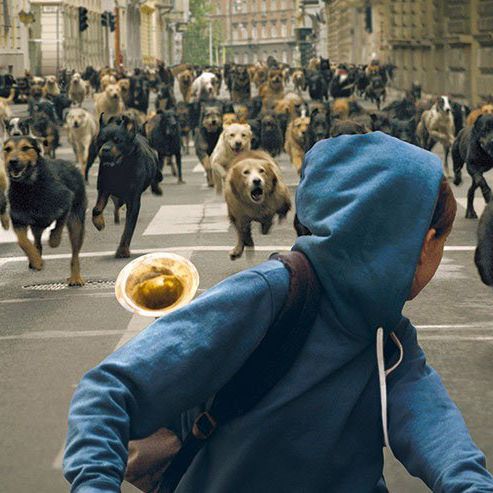 In the cunning, nimble Hungarian thriller White God, homeless city dogs are driven to the breaking point and turn on their human abusers. Coming from Eastern Europe, it's the sort of film that gets labeled a parable (slaves versus masters, etc.) for added prestige, but I like it just fine as a B revenge movie with A-plus direction by Kornél Mundruczó and a cast of canines so personable that even when they tear out people's throats you still want to take them home.
The film has a pair of strong protagonists: a willful little trumpet player named Lili (Zsófia Psotta) who has to move in with her divorced dad, Daniel (Sándor Zsótér), for three months, and the soulful mutt she totes along, Hagen (played by brothers Bodie and Luke, a mix of Shar-Pei, Labrador, and hound), who turns out not to be welcome in her dad's building. After the Miss Gulch–like upstairs neighbor blows the whistle, the father deposits Hagen by the side of a highway and drives off with his daughter in a state of shock and rage.
Who better to explore the fetid back alleys, rubbish-strewn lots, and brutal prisons of an august Eastern European capital than a stray dog? Our Lassie doesn't go home but is pursued by animal-control wranglers (the chase scenes are a marvel), after which he's snatched by a hungry bum, sold to dog-fight competitors, and beaten into a state of savagery — though Hagen's eyes go moist when he regards a dog he has just been forced to maul, suggesting he knows who the real enemy is. Mundruczó is mining a rich heritage of underclass table-turning adventures, with liberal dashes of Planet of the Apes and Samuel Fuller's White Dog. The climactic reunion of Lili and the now-feral Hagen is staged and shot with such eloquence that you might not believe you're falling for it — or that you're in tears.
Árpád Halász is the credited "animal trainer for 280 dogs," Teresa Ann Miller the handler of Bodie and Luke — better actors than half this year's Academy Award nominees. This is the new gold standard for nature-bites-back movies.
*This article appears in the March 23, 2015 issue of New York Magazine.