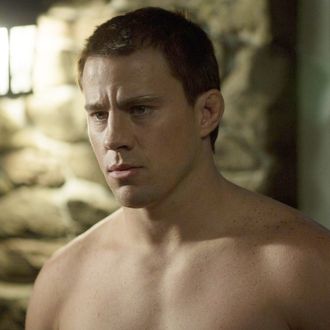 Channing Tatum in Foxcatcher.
Photo: Scott Garfield/Fair Hill
You can see all of the 2015 MTV Movie Awards nominations here (is it really fair to give Best Onscreen Transformation to Boyhood's leading boy?), but what we're most concerned about are the nominations for Best Shirtless Performance:
Zac Efron, Neighbors
Chris Pratt, Guardians of the Galaxy 
Channing Tatum, Foxcatcher
Ansel Elgort, The Fault in Our Stars
Kate Upton, The Other Woman 
Zac Efron's pecs really did play a huge role in Neighbors, as did Kate Upton's cleavage in The Other Woman, but we'd be crazy not to point out how purposefully insane-looking Channing Tatum looked in Foxcatcher. Perhaps this is to make up for the fact that Magic Mike Chan lost to Taylor Lautner's bod in Twilight: Breaking Dawn in 2013? There's always Magic Mike XXL, my friend. This one seems like it's going to Efron (who also won last year for his "work" in That Awkward Moment).