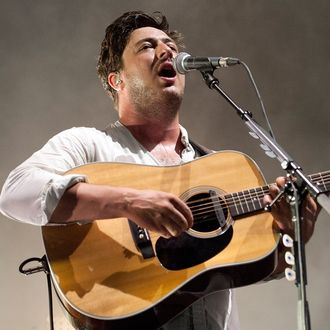 Mumford & Sons are going electric.
Photo: Erika Goldring/Getty Images
Remember when Mumford & Sons fans everywhere had a meltdown last year, when the band was rumored to be breaking up? Fear not! Their brief hiatus is officially over with today's announcement of their third album, Wilder Mind, to be released May 4. Mumford & Sons might look slightly different this time around, though. Rolling Stone reports that the new album won't have much of the band's beloved banjo, acoustic strumming, or stomping kick-drums, which will instead be replaced by "U2-sized guitars, synths, spacey mellotrons and even some drum machines." So maybe they weren't entirely "just joking" about hating the banjo after all. Here's a teaser for the electrified new Mumford & Sons album.