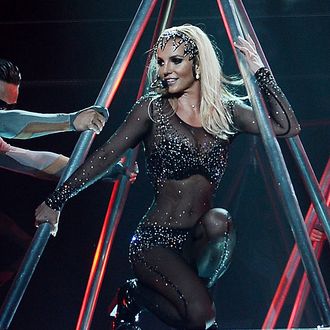 Britney Spears.
Photo: Denise Truscello/BSLV/Getty
Unsurprisingly, a new album for Britney Spears is "not [her] full priority" at this time, she tells Billboard. And why should it be? Albums take time and money, and Britney is happily making just over $300,000 per show at her Las Vegas residency. Her last album, 2013's Britney Jean, was her lowest-charting record in the United States on the Billboard 200. It's "Baby One More Time" the people want, not "Perfume" (even though that song is pretty underrated). 
With Britney at the helm (and the Celine Dions before her), a Vegas residency is looking better and better for prestige artists these days — Britney's manager Larry Rudolph tells Billboard: "I've probably gotten calls from 10 major managers asking me advice on their artists … People you wouldn't believe, who right now are at the top of the charts." But they don't have the catalogue of hits you need to fill that two-hour show. One day you, too, Meghan Trainor, can fill the Luxor. Keep at it.