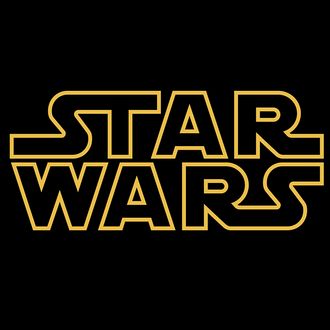 You will see this font at least twice more.
One of the new pleasures of the blockbuster universe is the shareholder event where entertainment conglomerates announce various titles, release dates, and other sundry details of their burgeoning cinematic universes. Up today: Disney's Star Wars! At a shareholder call today, Disney announced that Star Wars: Episode VIII (the sequel to the one you haven't seen yet) will come out May 26, 2017. That might seem faraway to you, but given the current Hollywood landscape, Episode VIII is actually entering a crowded field, opening the same day as The Lego Batman Movie and three weeks after Guardians of the Galaxy 2. Rian Johnson is directing, but other than that not much is known about the project; judging from other eighth things, the movie will likely get married six times and abdicate the English throne.
Disney also announced that Gareth Edwards's spinoff Star Wars film will officially be titled Rogue One. As previously reported, Felicity Jones will star. Rogue One has traditionally been the call sign of an X-wing pilot in the Star Wars universe, but rumors about the film point in another direction entirely, as some sources say the movie is a caper film about bounty hunters, while others say it'll be about "the early days of Han Solo and Princess Leia." Either way, it'll be written by About a Boy's Chris Weitz, so expect at least one soulful acoustic jam.