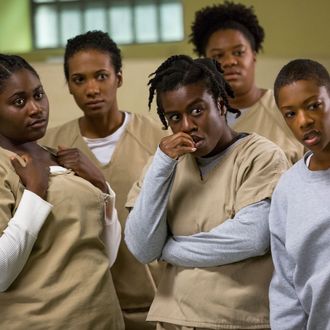 A very dramatic scene from Orange Is the New Black.
Photo: Jessica Miglio/Netflix
Sorry, Netflix — the Emmys have decided that Orange Is the New Black isn't quite funny enough to count as a comedy. Last month, the TV Academy decided to standardize its genre definitions for the Emmys: From now on, half-hour shows will compete as comedies, hour-longs as dramas, and shows that "do not have an ongoing storyline and/or main characters in subsequent seasons" as miniseries. However, because they are gracious leaders, the Academy also decided to institute an appeals process, which this week decided that Glee, Shameless, and Jane the Virgin could indeed compete in the easier comedy category after all. OITNB was not so lucky: Its petition was reportedly denied today. The show's fans are furious, but personally, we think this seems like the right decision. We're talking about a show whose first two seasons ended with a brutal beating and a fatal hit-and-run. It was a funny hit-and-run, admittedly, but still.