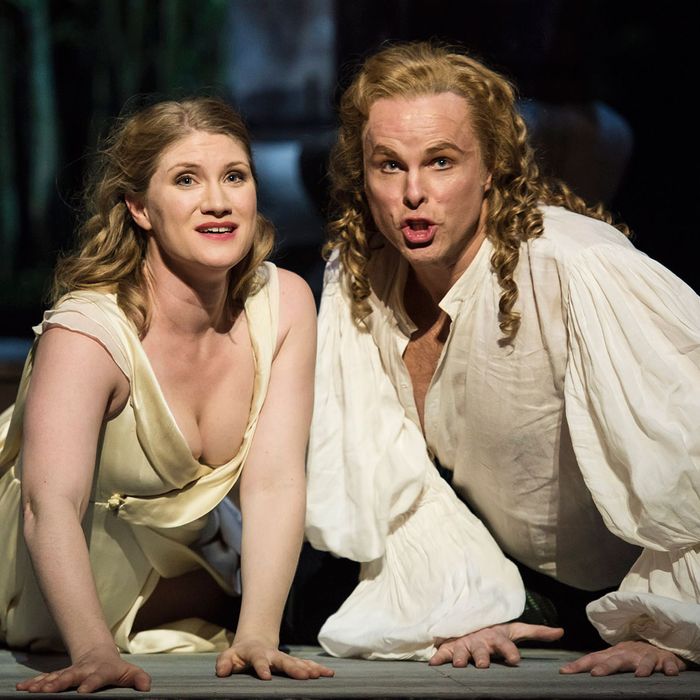 Semele20150302-224
Photo: Jack Vartoogian
Let's stipulate that there is no rational reason for two sumo wrestlers the size of young hippos to collide center stage during a Handel opera. Let's further acknowledge that Semele, an 18th-century work with an English libretto and an ancient Roman setting, does not take place in a Ming Dynasty temple (or actually have anything to do with China). Oh, also? Handel did not write the Communist "Internationale" or intend it to be hummed as the final curtain falls. And let's accept the visual artist Zhang Huan's admission that he has no feeling for, or understanding of, opera, even though he directed this one. The six-year-old production that has just arrived for a short stint at BAM, complete with the original temple, should by rights be a disaster; instead it has a weird seductiveness, strengthened by some very fine singing.
Baroque opera lends itself to fanciful interpretations, and Semele, a freewheeling parable about a beauteous mortal who falls for the god of thunder and gets scorched by lightning, is particularly malleable. Nine years ago, New York City Opera mounted a sublimely wacky tabloid staging that re-created the title character in the person of Marilyn Monroe and Jupiter in JFK. But Zhang doesn't really interpret the piece at all. Experiencing his version is a little like watching the picture from one movie and listening to the soundtrack of another: There are some surprising points of contact. Handel's Semele is a romantic tangle. Athanas loves Semele, whose sister Ino loves Athanas, which is okay because Semele actually loves Jupiter, who shows his affections by turning into an eagle and abducting her, which is not really okay because (a) Jupiter's wife Juno objects, and (b) Jupiter is a god and Semele is not. Got that? Zhang doesn't, so he produces a different story, apparently about a couple of Renaissance Europeans whose visit to Asia is interrupted when Semele is captured by a dragon. Fortunately, along comes another eccentric tourist who goes by the handle "Jupiter" and whose long blond hair and gold lamé wings make him look like a cross between David Lee Roth and a Christmas-tree angel.
The heroes here are the members of the Canadian Opera Company, who don whatever freestanding costumes Han Feng has constructed for them and stick to the business of delivering the wild score as authentically as they can. Soprano Jane Archibald sings the title role with insouciant glee, her voice shimmying up into the high register and scattering notes like confetti. One of the things about opera that evidently stymies Zhang is character, and Archibald doesn't quite compensate for his lack of direction. Her Semele remains a silly princess who thinks she's a great beauty ("Myself I shall adore / If I persist in gazing," she coos) and sings like a true musician. Hillary Summers, in a tottering superstructure of hair, shoulders the two conniving roles of Ino and Juno (who both wish Semele ill). Her plush, iridescent alto hints at depths that the director leaves unplumbed. The men struggle a bit more to cut through the production's clutter. Colin Ainsworth can't quite decide whether to sing the role of Jupiter with goofy sincerity or to play it for laughs. Conductor Christopher Moulds keeps all the opera's wheels spinning and the pistons churning with aplomb, if not excitement.
In the end, all this artistry comes off as ornamentation for the show's immovable star, the 450-year-old temple salvaged from ruin, reassembled in Shanghai, and restored so that it could earn its keep touring the world as an opera set. It's a rough and weighty marvel, with double-height columns resting on stone bases, a carved wooden lintel over the entrance, and a stage presence so vibrant that at times the opera just seems like a variety act staged to keep the temple entertained.
Semele is at the Brooklyn Academy of Music's  Howard Gilman Opera House through March 10.