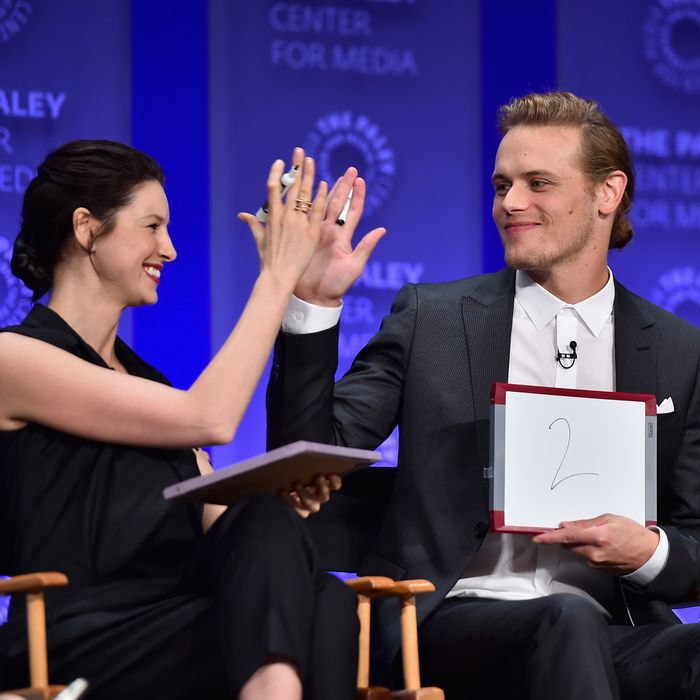 The Outlander cast at PaleyFest.
Photo: Alberto E. Rodriguez/Getty
Much ado has been made about Outlander's sex appeal — the physical attractiveness of its stars Caitriona Balfe and Sam Heughan, naturally, but more so regarding the story's romantic drama and very sexy sex scenes. So when presented with the opportunity to speak to the cast and creators of the Starz historical epic based on Diana Gabaldon's best-selling book series ahead of their PaleyFest panel in Los Angeles Thursday, we posited a less-explored question: What is the most unsexy thing that has happened during filming on the show? Prepare thyselves to be turned off, for the surprisingly unappealing tales that follow involve horse flatulence, spiders, and fainting extras.
"There was a bit where Caitriona [Balfe] and I were filming the stuff from 1915 or 1916, and I was leading her down this corridor, and I had sort of a flaming brazier in my hand," recalled Tobias Menzies, who plays Balfe's character Claire's husband Frank and the villainous Black Jack. "It was an old castle, and the flames were dislodging spiders from the crannies in the ceiling and they were falling on us, and Cat was less than cool under fire. She freaked the hell out."
Balfe seemed to have blocked that moment out, until we relayed Menzies's tale:
Oh my God, yes! I forgot about that, yeah, those spiders … It's always rather unsexy when you're riding behind a horse that has incredible flatulence and you're trying to be serious in a scene and that's just silly. It's very unsexy. There was one [scene] where I'm on the horse with Sam and we're riding up to Castle Leoch, and I think it's like the end of episode two, and Duncan Lacroix's [a.k.a. Murtagh Fraser's] horse, every time. It would be quiet, and then they'd say, "Action," and every time, I'm supposed to be coming awake and looking at the castle, but I just had to keep my head down because I was giggling so much. And our director was like, "Caitriona, you're supposed to be awake," and I'm like, "I am!"
Outlander author Diana Gabaldon was very much awake during the filming of her cameo in episode four, but not everyone around her remained that way, thanks to very stuffy surroundings and 25 long takes of her scene, which involved a 360-degree Steadicam shot:
I was in the gallery above the great hall at [Castle] Leoch, and they had all of the hearths and the candles and the sconces going full blast along with the lights up above, and I was standing  up in the gallery, where we're all wearing 15 pounds of wool … I said to the person next to me, "It's 103 degrees up here!" I live in Phoenix, I know what 100 feels like, and right after I said that, the woman behind me fainted from the heat, thud, on the floor. Caitriona had given me her fan, so I pulled it out of my sleeve and was fanning the poor thing. They ran up and carried her out and then said, "Okay, everybody clear out, we're going to air the place out now." They did bring up about half a dozen fans for us after that, and that improved things quite a bit."
Finally, in a tale as old as time (for male actors who have to appear naked onscreen, anyway), Sam Heughan revisited the emotional pain he suffered when he lost his "modesty pouch":
I dropped my modesty pouch in the urinal … That was embarrassing, and there have been many [more moments] since. But yeah, I had to go and tell someone to get a new one, and obviously they radio the whole crew and everyone knows. It was like, "Yeah. Thanks, guys."
Perhaps he could have suggested everyone try one on to understand or share in his suffering? "I think everyone should wear one," he said. "We should have National Modesty Pouch Day."
Correction: A previous version of this post misspelled Caitriona's name.