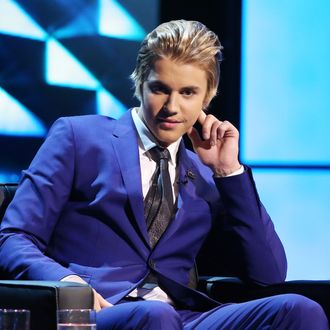 Justin Bieber onstage during the roast.
Photo: Michael Tran/FilmMagic
Although celebrity roasts are never recommended for the politically correct or the faint of heart, The Hollywood Reporter writes that Comedy Central will omit the Paul Walker jokes that were made last weekend at Justin Bieber's no-holds-barred roast because they were too insensitive. During the live taping of the special, which airs March 30, there were a handful of awkward jokes cracked about Pete Davidson's late father, as well as the late Fast and Furious star. Jokes about both fallen figures didn't land very well, but it seemed that the Walker jokes (like when comedian Jeff Ross said, "'Move bitch, get out the way!' is what Paul Walker should've told that tree," or when Davidson said, "Justin got arrested for drag racing … unfortunately, it wasn't with Paul Walker") especially rubbed attendees the wrong way.
"Roasts often push the limits of good taste and we give the participants full rein to try things knowing we have the edit to shape the show," a network spokesperson told the magazine. "Sometimes the line is discovered by crossing it. The Paul Walker references will not be in the telecast." Seeing as Ludacris was reportedly pissed, it looks like Comedy Central is smartly trying to avoid another Steve-O–Ryan Dunn–Amy Schumer moment.