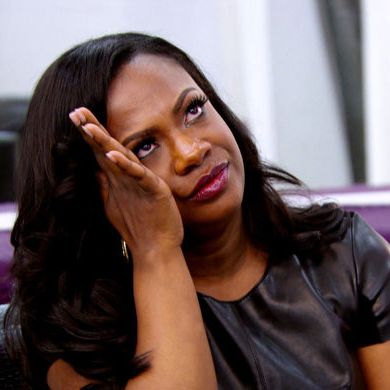 Talk to the hand.
Photo: Bravo
When Cynthia, Claudia, and Demetria excused themselves at the end of the group meeting, I screamed, "Why haven't you guys been doing this all along?!" Do you know how many friendships could have been salvaged if half of these women just left conversations halfway through?
It's almost embarrassing how hard Cynthia is flexing this season. She sits next to the Great Pumpkin on their couch and talks about the music award he created back when he was sort of responsible for starting the Source Awards, but doesn't really have a response when he says that it's not fair to call Phaedra a whore in response to her calling everyone else a whore. How is it possible that Peter is more of a feminist than Cynthia right now?  Phaedra is across town bitching about the same exact thing to Porsha; they've bonded over the fact that they've had very public divorces and not Porsha's stunning command of English literature. This meeting did result in the funniest conversation I've ever heard on TV, though:

Porsha: "I'm coughing. I have Ebola."
Phaedra: "Not the Ebola, girl!"
They ordered lobster and called Kenya a dog afterward because nothing will ever top that moment. Phaedra said she blacked out last week when she was threatening to beat Kenya with her purse. We all black out when Phaedra and Kenya are onscreen together rather than listen to them bicker, so she stole that move from us! Phaedra is mad that Kandi didn't chase after her fast enough when she left the table and thinks their friendship has changed lately, but what did she expect? Phaedra, your husband was acting like a goddamn madman before he was sent to prison — no one wants to be around that drama willingly! They hinted that Peter was sleeping his way around Atlanta, so thanks for putting that Papa Smurf nightmare in my head, and Phaedra thinks Cynthia owes her an apology. I think we'll see Porsha recite the periodic table from memory before that happens, but a girl can dream.
Kandi and Todd decide to see the same therapist Porsha and Kordell saw right before they got divorced, but don't blame Dr. Blake! I'm glad they're going to therapy, but man, Todd looks like he's already checked out. He admitted that being in Atlanta is stressful for him, and of course it is — Kandi's mom lives in Atlanta, and she's a black hole of stress and negativity. Mama Joyce hasn't come up yet, but if they go for even one more session she absolutely will. The prenup might have done them in — not the existence of one, but the way Kandi coldly brought it up with him, and that she regularly said if he didn't sign it their wedding would just be a "big, expensive party" instead. He's basically resigned himself to a one-sided relationship where everything goes her way, and I can't help but think that the way her family has treated him is a huge part of that. Dr. Blake gave them some homework and insists they go on a date together, so Kandi takes Todd to … Peter's awards ceremony. Let's just say the award she collected that night was not for being good at marriage, okay? Kenya was at the awards pushing her chartreuse agenda, and Claudia wore a dress that kept her from hugging people ("a titty might pop out"), and then Peter said Cynthia's ass has exploded since she moved to Atlanta. It was a tiny, delightful mess all around.
The weird thing is that Kandi totally lied about not knowing about Phaedra's alleged affair. She insisted that she had no idea about it when she was talking to everyone before the awards at the exact moment Todd was telling Peter that, yes, Apollo came over and showed them both the texts between Phaedra and Mr. Chocolate. This is why Kandi gets in trouble — she lies. I can understand her taking a step back from Phaedra while she deals with her own issues, but her insistence on lying is unforgivable.
Maybe Dr. Gardere can help her. NeNe hired the same psychologist she used to help Gregg mend his estranged relationship with his kids, but that was a walk in the park compared to what she's asking him to do now. I have to say, it kind of makes sense — hardly anyone in the group gets along with more than one person. NeNe said that she doesn't want a friendship, she just wants understanding and respect, and Dr. G had to quickly add, "And you want to give respect, too," because there was no way NeNe was coming to that conclusion on her own. Bless you, Dr. G — you might love a challenge, but they're going to rip you apart.
Cynthia met with Phaedra for dinner to try and have a one-on-one about Fight Night, but her immediate saltiness about whether or not they'd be able to have a conversation turned Phaedra off entirely. Phaedra was mad that Cynthia co-signed the Mr. Chocolate story without fact-checking it, and when Cynthia quickly mentioned that no one in this group fact-checks anything, Phaedra just straight up LEFT THE TABLE. I sort of love her inability to tolerate any sort of discussion that doesn't make her come out looking good.
Kandi wishes she could walk away from the conversation she's having with Mama Joyce when she comes to Kandi's store for a visit, but she's not that lucky. Can you believe that Mama Joyce wants the old house now that it's fixed up? After all the bullshit she put Kandi through to find her a new house after her boyfriend demolished the old one? I literally cannot with this woman! Kandi was in tears within seconds, crying about how negative and critical Mama Joyce is, but I was proud of her for at least prioritizing her own problems over Mama Joyce's. Mama J at least tried to mend things by bringing Kandi a key to her house, finally. It doesn't make up for decades of emotional abuse, but it's a start? No, it's not. In the grand scheme of things, it's nothing and she's still garbage.
NeNe wanted to break the news to everyone about group therapy, so she invited them out for Mexican food, but intentionally left out Phaedra and Kenya since they fight too much. That seems backward, but I think she was just hedging her bets and trying to keep the physical violence to a minimum. Porsha showed up in a Day-Glo crop top outfit that she absolutely won't regret in a few months, and Cynthia over-rouged her cheeks and acted like a real asshole, barely letting NeNe speak. Kandi doesn't want to go to therapy, which is not really a surprise; she's sick of being in the middle, but also unable to admit that she's ever done anything wrong, so therapy might not be a good fit for her. The amazing thing that happened, though, was that after they agreed to go to the session, Cynthia, Claudia, and Demetria got up and left Porsha, Kandi, and NeNe to talk out their issues. That has never happened in the history of this show! Kandi eventually agrees to go even though she clearly doesn't think it will work, and calls Porsha "Ms. Cleo" when she says she had a feeling Kandi and Phaedra were having beef. Porsha can't even read a billboard let alone read the future, so that's a joke that keeps on giving.

Next week, everyone goes to therapy! Until NeNe gets called out and leaves. Did you really expect anything else? See you then!