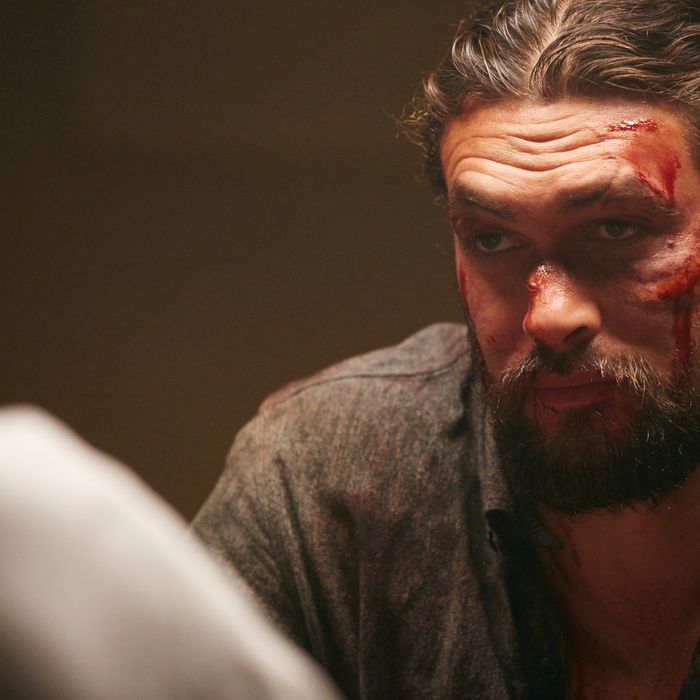 jason Momoa - in the SundanceTV original series "The Red Road" - Photo Credit: Quantrell D. Colbert
Photo: Quantrell D. Colbert
THE RED ROAD is back. The gripping thriller follows a New Jersey local cop as he struggles to keep the peace between small town locals and a nearby Native American tribe. After a murder and cover-up drives a spike between the two worlds, an uneasy alliance is forged between the officer and a dangerous member of the tribe—but for deputy Harold Jensen, doing the right thing means putting his family in jeopardy. Take our refresher course to catch up on all the events, and then tune in to the season 2 premiere on April 2 10/9c on SundanceTV.
Season 1 Refresher
Harold Jensen
Phillip Kopus
Jean Jensen
Kate Jensen
Rachel Jensen
Junior Van Der Veen
Marie
Jack Kopus
Sky Van Der Veen
Season 1 Refresher
Season 1 Refresher
While local cop Harold Jensen investigates the disappearance of a college student in New Jersey, his rival, Phillip Kopus, returns after six years in prison. Tensions run high between the local townsfolk and the Native American Lenape community and the fact that Jensen's daughter is dating a Lenape boy makes people uneasy. When Phillip falls back into criminal behavior, stealing pharmaceuticals for Albanian drug dealers, he gets the Lenape boy involved.

Meanwhile, Harold's wife, Jean, has become increasing unstable, suffering from schizophrenia; and when she's involved in a hit-and-run it gives Phillip just what he's looking for to blackmail Harold and keep the cops out of his drug dealing business. Jensen misleads the police force to protect his family, and Phillip frames an innocent man (someone very close to him) for the murder of the missing girl.

As long-buried family secrets are unearthed, a love triangle emerges and loyalties become complicated as the season culminates in a bloody shootout.
Episode 1
Police officer Harold Jensen (Martin Henderson) is searching for a missing NYU student. He is suspicious of the Native American community, including tribe member Phillip Kopus (Jason Momoa). Mike (Zahn McClarnon) says he accidentally killed the boy and dumped the body in the lake. Harold's wife, Jean (Julianne Nicholson), fights with her daughter Rachel (Allie Gonino) after finding a condom in Rachel's pocket and Harold warns Rachel to stop seeing "that Indian kid" named Junior. Jean is trying to stay sober and dealing with memories of her brother's drowning. Phillip pays a visit to his father, Jack Kopus (Tom Sizemore) in Brooklyn to give him an envelope of drug money. Jean gets ahold of Harold's gun and goes looking for Junior, but ends up hitting somebody in her car and fleeing the scene. Phillip tells Harold that witnesses saw the hit-and-run but he will protect Jean if Harold is willing to cooperate with what he needs.
Episode 2
Phillip protects Jean from being reported to the police. Harold learns that Phillip spent six years in prison for drug trafficking. The police captain tells Harold that the tribe is angry because Jean hit a Lenape boy who's now in the hospital. Jean tells a detective she was looking for her (long-dead) twin brother on the night of the accident. Harold asks Jean's mother, Sylvia, to stay with her. Phillip and Mike steal a prescription pad from a hospital. Rachel and Junior make out on the school's rooftop. Jean hallucinates Rachel's voice and nearly falls out a window. Harold checks her into a psychiatric center. Phillip breaks into a pharmacist's house and threatens him if he doesn't hand over 1,000 prescription pills every week.
Episode 3
Phillip, Mike, and Junior steal medication from a nursing home pharmacy. While searching for the missing student, Harold finds a sinkhole near the lake. Lenape hunters warn him not to touch the toxic dirt. Jean admits to a doctor that she's been hearing voices since her first pregnancy. Harold pulls Mike over and recognizes him as Junior's friend. He searches Mike's car and finds prescription pills. He interrogates Mike at the station and tells the detective he found the pharmacy thief, but stops short when Phillip tells him to release Mike. Harold obliges. Phillip gives Junior cash to buy a gun. Junior takes Rachel to buy the gun and then to a swank hotel to have sex. Phillip finds a missing-boy flyer with a note that reads, "I know." Jean realizes she hit the Lenape boy and tells Harold she wants to report it, but Harold dissuades her.
Episode 4
Phillip's mother, Marie (Tamara Tunie), urges tribal Chief Mac to start compiling evidence about toxic dump sites. He says it's futile until the tribe gets federal recognition. Phillip and Mike pile pharmaceuticals into the back of a stolen truck and light the truck on fire. Chief Mac calls a tip into the DEA. Rachel refuses to date Junior if he's hanging out with Phillip. Harold races to Phillip's house to warn him about the DEA raid. Phillip narrowly escapes. Harold tells a DEA agent that the suspect punched him then gives a false description of Phillip. Junior gives Marie cancer meds, which she refuses to take because they're stolen. A doctor informs Jean that she has schizophrenia. Two NYPD detectives visit Harold's house in the middle of the night to inform him that Mike sold meth to the missing NYU student and they blame Harold for not booking Mike. Mike is worried that Phillip wants to kill him. Phillip strangles Mike and dumps his body in a sinkhole.
Episode 5
Phillip meets with a drug dealer, who tells him to deliver 2,000 tablets on the fifth of the month. Harold follows a map Phillip made and finds a 9mm handgun hidden at a lake. Divers remove the missing student's body from the lake, and the medical examiner says the bullet wounds match the 9mm handgun. NYPD detectives ask how Harold found the body and accuse him of being a dirty cop. The detectives bust into Jack's apartment and he shoots them dead. The parents of the boy that Jean hit accept a settlement and can no longer prosecute Jean. Jean refuses to sign the settlement papers. Harold finds Mike's stolen drug stash.
Episode 6
Phillip tells Junior the pills were confiscated by police. He says the drug dealers will hunt him down for failing to deliver and gives Junior a gun for protection. Harold listens to a cassette tape stolen from the police station that gives him some clues about Jean's brother who died when they were young. Harold gives the cassette to Jean, but she destroys it. It turns out, Phillip was accused of killing Jean's brother when they were boys. Jean visits Phillip at a motel. The drug dealer stops by Phillip's room but Phillip is gone so the dealer shoots the cleaning maid. At the murder scene, Harold recognizes Phillip's ring on a table. Junior spots Rachel with another boy. He confronts her then says he's dropping out of school. Jean starts hallucinating and swims into a lake. Harold saves her. Phillip asks Marie for money before skipping town. Jack accuses Phillip of setting him up and aims his gun at Phillip. Junior shoots Jack. Police arrive and handcuff Junior and Phillip. Harold puts Phillip in his car. The drug dealer and his henchmen show up and order Harold to hand Phillip over. In a shootout, Harold and Phillip kill the three men.
Harold Jensen
Harold Jensen

Harold Jensen is a Walpole, NJ, police officer currently investigating the disappearance of a young college student in the New Jersey Mountains, home of a Lenape Mountain Native American tribe. At home, Harold attempts to keep the peace between his increasingly erratic wife, Jean, and their rebellious teenage daughter, Rachel. When a sudden tragedy threatens to put him under the power of ex-con Phillip Kopus, Harold must decide whether to compromise his principles or risk destroying his family.
Phillip Kopus
Phillip Kopus

Brimming with menace, charisma, and hypnotic self-confidence, Phillip Kopus is a member of the Lenape Tribe and an ex-con whose suspicious return to Walpole threatens to up-end the fragile peace. When an opportunity arises to hold something over Harold, Kopus takes full advantage of the situation to gain the upper-hand. As these two men find themselves increasingly compromised by one another, the lives of both quickly unravel.
Jean Jensen
Jean Jensen

The daughter of a state senator, Jean Jensen is a recently recovering alcoholic married to Harold Jensen, and the mother of two teenage girls, Rachel and Kate. She starts behaving with newfound volatility, spurred by the local disappearance of a college student and by her daughter Rachel's romance with a Lenape classmate, which have both brought up painful memories. Her increasingly erratic behavior threatens to upend her whole family and the wider communities of Walpole, NJ.
Kate Jensen
Kate Jensen

Jean and Harold's youngest child, Kate Jensen, works hard to keep the peace between her family members. Very close to her father, Kate is dismayed by the tension between her mother and her older sister. Kate is an unhappy witness to the chaos in her home and the growing tension between the Lenape tribe and members of her own family.
Rachel Jensen
Rachel Jensen

Rachel Jensen, Harold and Jean's 16-year-old daughter, is a pretty, rebellious girl who is having an intense romance with Junior, a Lenape teenager from the local tribe. Their forbidden relationship has put her at serious odds with her mother, who has a bitter grudge against the Lenapes.
Junior Van Der Veen
Junior Van Der Veen

Junior Van Der Veen never knew his parents, but has been taken in by Marie and treated like her own. He has a star-crossed romance with his high school classmate, Rachel, a relationship tied to a dark past. Phillip, Junior's recently returned step-brother, has emboldened him, creating schisms in his relationships with Rachel and Marie.
Marie
Marie

A Lenape woman and leader in the community, Marie is the sister to the tribe's chief. With a history of taking in those less fortunate than herself, Marie has been raising Junior, an orphan, since he was small. With the arrival of Phillip Kopus, her sole biological child whose father is a notorious criminal, the life she's built begins to unravel.
Jack Kopus
Jack Kopus
Jack Kopus, Phillip Kopus's father, is a longtime drug dealer and criminal who lives in Brooklyn and has a highly combative and deeply twisted relationship with his son. Jack is a dangerous man who has sent Phillip back to New Jersey on a mission.
Sky Van Der Veen
Sky Van Der Veen

A member of the Lenapes, Sky is a lawyer and a powerful asset to her people. Returning to her hometown of Walpole, NJ, Sky rallies for justice after a terrible crime has been committed against a member of her tribe. Her complicated past with Phillip Kopus may end up being a roadblock in her investigation.