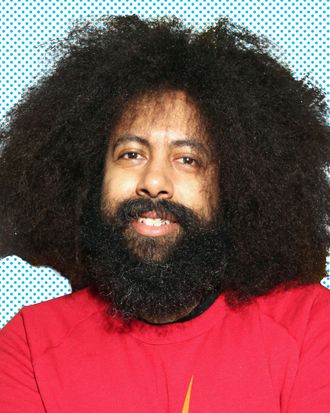 Photo: Richard Mcblane/Getty Images
If you've ever been lucky enough to catch Reggie Watts live, you know you've never seen anything like him. An improvisatory, free-wheeling musical comedian often armed with only effects pedals, a killer voice, and whatever character voice pops into his head, Watts straddled the alt-music, alt-comedy, and alt-theater scenes for years, amassing a unique following. After releasing records and videos and logging TV appearances on Conan and Late Night, among others, he was tipped further into the mainstream as Scott Aukerman's bandleader-slash-sidekick on IFC's Comedy Bang! Bang! Now Watts is about to embark on what will be his most widely visible role to date, as bandleader on James Corden's The Late Late Show on CBS. Vulture spoke to Watts about what we can expect from him and the show as the premiere date draws near.
How's L.A.?
It's good. It's warm.
Have you fully moved there from New York at this point?
Not a full move. I'm definitely mostly here, but I still have my apartment in Brooklyn. I'm figuring it out so I can still go back to New York at least twice a month.
You haven't fully L.A.-converted yet.
I haven't L.A.-d yet.
So did you know James Corden beforehand, or did this whole thing happen very suddenly?
It happened relatively suddenly. I was wrapping up Comedy Bang! Bang!, I had another month left, and then I got the call that James Corden wants to meet in a hotel in Beverly Hills about The Late Late Show. And I thought, Well, this is crazy, because I was just about to be done with Comedy Bang! Bang!, and I thought I'd have all this time to fuck around and do cool shit. You know, just random shit. But then I got that call and — this is going to sound really stupid — but I was kind of annoyed? [Laughs.]
"My free time!"
Yeah, I was basically like, "Gaahhhhh." Totally. But then I met with James and he seemed like a cool cat. He had a lot of good energy, he was down with crazy ideas. The producer was really cool, too. But it took me a while to decide whether to do it.
Was it James's idea or CBS's idea to bring you on? Do you know how you got involved?
As far as I know they were floating ideas for music, and someone suggested me, and James pulled up a link for a video, and he saw a video and liked it. But that's all I know.
What finally sparked your decision to take the job?
It's funny, I had so many conversations with friends and colleagues. And I remember talking to Sarah Silverman about it, and she was really cool. She said, "If you get to be who you are, and you get to ask for a criteria and they meet that criteria, then why not check it out?" So I thought about that. And then I talked to my mom. And my mom was like, [in mom voice] "Well. You never know until you try."
Sometimes all you need is Sarah Silverman and your mom.
Exactly.
What's the musical setup going to be? Will you be by yourself like in Comedy Bang! Bang!, or do you have a full band?
Yeah, I have a band. One of the things I stipulated was that I wanted to pick my own band, and they were cool with that, so I chose a pretty sick crew of weirdos to be a part of this journey. And yeah, they're amazing. The name of the band is Karen.
Karen? Like the woman's name? 
Yeah, for now. That may change.
So will they announce it at the top of the show as "Reggie Watts and Karen"?
Correct. That's mainly the reason why I wanted it. "Did you see Reggie and Karen last night? They were amazing."
What kind of bandleader do you think you'll be? Do you want to be very involved in bits and the sketches, like Max Weinberg, or sort of a constant banter companion like Paul Shaffer? The quiet intensity of the Roots? A combination of the above?
A lot of my conversations with James have been about, you know, they don't want me to be just a bandleader or a sidekick; they'd like me to be involved with bits. And I genuinely believe that is their intention. Who knows how the show will end up. I'm not holding those words ransom or anything like that — I know a show becomes whatever a show is over time. In my eyes I know right now that I'm providing the music for the play-ins and play-outs and making sure that's cool and that's dope, but who knows? I like coming up with bits for the show, and I love acting and doing weird shit. And they get that I'm an improviser, and it's best for me to have a structure and improvise around that. I'll probably be a mix of Paul Shaffer and Andy Richter. Somewhere around there.
Do you like having a day job like this? Do you find it helps inspire your other projects and keep you on your toes, or does it impede your own comedy projects?
I mean, it's definitely something to get used to. It definitely qualifies as a job. Whatever I'm doing in this life, I'm not in it to find work. And the way that I looked at it, I'm not taking The Late Late Show because I need the work. I'm doing it as an experiment to see what it's like. I want to see if I can use the platform for good, to get some good music on the show, to promote good choices. I look at it as an "idea distribution platform." So when I look at it that way, it's still a job, and I'm expected to do something, but the hours are great and there's nothing really to complain about. We'll see how it goes. I'm definitely not a guy who's like, "Oh, a schedule? Cool!" But if I'm having a good time, I think it'll be fun.