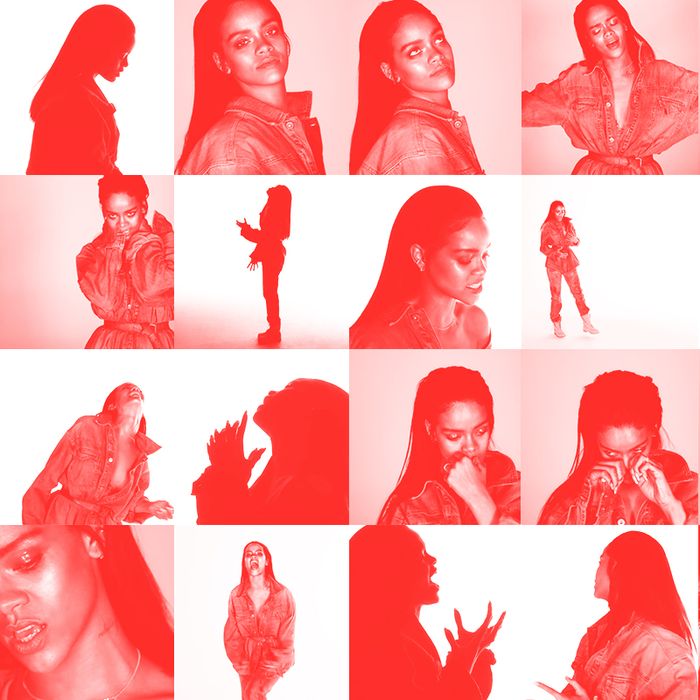 Photo: Maya Robinson and Photos by FourFiveSeconds
There's no telling when Rihanna's eighth studio album — known to fans as #R8 — could drop. It's been almost two and a half years since her last album, 2012's Unapologetic, the longest break Rihanna has ever taken between albums. A lot's changed since then. Beyoncé stopped the world with a surprise visual album; women, for the first time in a long time, dominated the charts last year; and artists are now being found guilty of stealing other artists' "vibe." 2015 is anyone's to take, and Rihanna seems poised to snatch it. She's reemerged this year next to a Beatle and with her voice stronger than ever. With her new album imminent, here's a timeline of everything we know about the project so far.
May 4, 2014: Complex magazine reports that Rihanna is leaving her label, Def Jam, for Jay Z's Roc Nation, which will reportedly release her next album.
May 16, 2014: Sia tells VH1 that she recently gave a new song to Rihanna and that her manager "flipped over it."

June 4, 2014: Grimes teases a new Blood Diamonds–produced song, "Go," that she says she wrote for Rihanna, but it was "turned down" (though it's unclear for what project). She later releases the song as her own.
June 11, 2014: Big Sean posts a picture of him and Rihanna in the studio together on Instagram. Since she isn't featured on his new album, that collaboration may turn up on hers.
June 24, 2014: Roc Nation writer Alicia Renee posts a picture on Instagram of herself in the studio with Rihanna, saying she cried after hearing Rihanna sing one of her songs for the first time. She uses the hashtag #R8 (more on that later).
July 7, 2014: Kiesza tells Digital Spy that Rihanna has recorded "two or three of my songs," but that "whether they will end up on the album, I don't know." She mentions that one of the songs is "one that never in a million years [she] expected her to pick out."
September 15, 2014: DJ Mustard confirms that he's been working on Rihanna's new album, saying, "We haven't got our club record just yet but we have a ballad that I really like and that she likes too. I did a couple of songs with her, we're still working, we're still in the early stages, trying to come together with a massive record."

October 7, 2014: Ty Dolla $ign tells FACT magazine that he's worked on her new album, saying: "We did a couple of joints, one joint she really liked, so I can't wait to hear what she does with it." (It's unclear whether or not one of those songs is "FourFiveSeconds," to which he contributed background vocals.)

October 8, 2014: Rihanna teases on Twitter that she's working on new music.

November 11, 2014: Ne-Yo tells the U.K.'s Capital XTRA that he's heard some of Rihanna's new album and that it's "absolutely incredible."
November 13, 2014: Rihanna tells fans at a Virginia meet-and-greet, "I can't give you any hints of when it will drop. It's going to be great, that's all I'm going to tell you and I'm excited about it."

November 14, 2014: Calvin Harris tells the U.K.'s KISS FM that Rihanna rejected a song he and Tinashe wrote for her new album and that "her album's due, like, really soon."

November 14, 2014: On Instagram and Twitter, Rihanna begins using the hashtag #R8. Her next album will be her eighth, and fans have speculated that hashtag could be the album's title.
November 25, 2014: Rihanna announces on Twitter how she plans to roll out her new album, saying, "any news about #R8 will be delivered directly from me."
November 25, 2014: Rihanna teases a dark new song on Instagram with the lyrics, "Ain't none of this shit promised / Ain't none of it certain."
December 9, 2014: On Instagram, Rihanna teases a guitar-driven new song, featuring Nuno Bettencourt, reportedly called "Kiss It Better," and produced by Glass John and Jeff Bhasker.
December 12, 2014: Natalia Kills tweets that she has worked on Rihanna's new album.
December 18, 2014: Rihanna invites hundreds of fans in Paris to participate in the filming of a video — possibly a promo clip — reportedly for her new album.

Decemeber 22, 2014: Rihanna reportedly registers several song titles with Broadcast Music, Inc., a performing rights organization, including a song called "Burritos."
January 2, 2015: Sam Smith tells Entertainment Weekly, "I know some stuff about [Rihanna's] record that no one knows," which may suggest that he's either featured on the album or has written for it.
January 4, 2015: An upbeat song called "World Peace" leaks online, though it's unclear whether or not it came from the #R8 sessions.
January 21, 2015: Rihanna reportedly registers the song "A Night" that credits Florence and the Machine's Florence Welch as a songwriter. Welch later confirms in an interview on February 12 that the song samples "one of her favorite songs from [2011's] Ceremonials." Fans speculate that it is "Only If for a Night."
January 22, 2015: Ne-Yo tells OfficialCharts.com that he "did a few sessions with Rihanna not so long ago … for the R8 album," and that what he's heard so far "sounds unlike anything else."

January 25, 2015: Rihanna releases "FourFiveSeconds," presumably the first single from her new album, featuring Kanye West and Paul McCartney.

February 3, 2015: After teasing clips on Instagram, Rihanna releases the video for "FourFiveSeconds."

February 8, 2015: Kanye West tells Ryan Seacrest on the Grammys red carpet that he's executive-producing Rihanna's new album.
February 20, 2015: Rihanna posts a photograph on Twitter and Instagram of what appears to be a preview of the artwork for her next album, shot by Paolo Roversi.
February 20, 2015: Kanye tells Power 105.1's "The Breakfast Club" that he has a song with Young Thug "that I think we're gonna put on the Rihanna album."

March 5, 2015: Rihanna teases two snippets of a new song called "Higher" on Instagram, and announces she's working with songwriter and vocal producer Kuk Harrell and engineer Marcus Tovar.
March 5, 2015: The NCAA releases a promo video for March Madness featuring Rihanna and a new song called "American Oxygen."