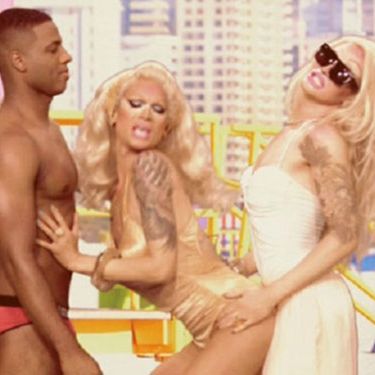 Monday night's episode of RuPaul's Drag Race.
Photo: LOGO
Of all the things beginning to define the seventh season of RuPaul's Drag Race, perhaps the most significant is the sense of scope. Week after week, the series seems to be endeavoring to top itself when it comes to executing the main challenge. The second episode saw the contestants participating in a large-scale lip-sync performance that included spoken-word elements, while episode three saw the queens trying (and often failing) to tackle Shakespeare. So when episode four dispenses with the mini challenge altogether, it's clear that "Spoof!" is going to be another grueling undertaking. Let's peek at what pops (and what flops) on this week's Drag Race.
Weird Al Crankybitch
It wouldn't be a Drag Race recap without pointing out just what a shady bunch of contestants season seven has gathered, and this week serves as no exception. This week's maxi challenge has the girls self-select into three teams, after which they are assigned RuPaul songs to parody for a music video. You'd think that picking their own teammates would cut down on the drama among the girls, but you would be wrong. Violet "My Future's So Bright I Gotta Throw Shade" Chachki again found herself at the top of the rejects pile and again had an attitude about it, even as her team, including Max and Jaidynn, managed to turn out a pretty good final product for their spoof of "Sissy That Walk."
But far more significant was the tension brewing between Miss Fame and Pearl. Though Pearl was already on edge from being called out last week, that didn't prevent her from being impossible to work with, even on a team populated with her besties Fame, Trixie Mattel, and Katya.
Katya the Untouchable
As the season progresses, it's becoming more and more clear that Katya is one of the few contestants with a truly strong sense of logic and reasoning. The most amusing part of this personality attribute, however, is the fact that Katya always manages to have a front-row seat for whatever train wreck is headlining a given episode. This week, she's mired in the mess that is team "Dance With You" with all the aforementioned Pearl/Fame drama, and her bewildered talking-head interviews provide some of the best moments of the episode. Thankfully, Katya is able to retain her sense of comic timing and disaster-survival skills, leaving in a good position to walk away from yet another catastrophe without a scratch.
Spitting on Drag U's Grave
For their spoof of "Let the Music Play," Ginger, Kennedy, Kasha, and Kandy choose to send up RuPaul's many (many) endorsement deals, and her aptitude for unapologetic self-promotion. Ru took the teasing in good humor, much as she did in the roast from season five, but stopped the video in its tracks when she heard a glib dismissal of her gone-too-soon series Drag U. The series lasted a mere three seasons, and each episode focused on drag queens helping three women access their inner divas. Apparently, the show's failure is a bit of a sore spot for RuPaul, who lightly admonished the queens, saying that Drag U had "helped a lot of people." That said, it was too late for the team to rerecord their audio, not that they should have, but when all was said and done, it remained a deliciously awkward moment.
High Fashion, Sponsored by Bud Light Lime-A-Rita
This week's runway had the contestants dressed in their I Am Curious: Green finest, a task that should have left viewers and judges alike sick with envy. However, instead of springing for any number of verdant shades, many of the girls eschewed kelly- or emerald- or forest-greens and opted for a shade most accurately pegged on the color wheel as something between Lime-A-Rita and straight-up bile. How most of the queens mysteriously landed on this particular hue is unclear, but let's hope no one revisits it anytime soon.
Sashay a … Wait a Minute
Given how their team underperformed, it's no surprise that Trixie Mattel and Pearl both found themselves on the bottom come episode's end. What was surprising, however, was exactly how the lip sync turned out. Poor, picked-on Pearl had nothing on plucky Trixie when they went head-to-head performing Blondie's "Dreaming." Trixie leaned into her comedy-queen ties and showcased an extremely technically proficient lip sync to a song she clearly knew backwards and forwards, whereas Pearl, as the judges have repeatedly pointed out this season, just didn't pop. But maybe something was lost in translation, because when all is said and done, Trixie is sent packing and Pearl stays to pout another day.
Winner: Kennedy Davenport
Bottom two: Trixie Mattel and Pearl
Eliminated: Trixie Mattel
Line of the Night Honorable Mentions:
"I picked out the scent!" Relatedly: "They smell really good!" —Jessica Alba inadvertently clarifies the extent of her involvement in the Honest Company.
"I wanna suck the life out of her." —She did, however, make me laugh with this aside re: youth vampirism.
"Like Ethel Merman and Paul Lynde had a love child." —Ginger Minj is rightfully underwhelmed by Kasha's pipes.
Winner: "It would be great if we could all roll like rotisserie chickens." Would it, Fame? Would it?