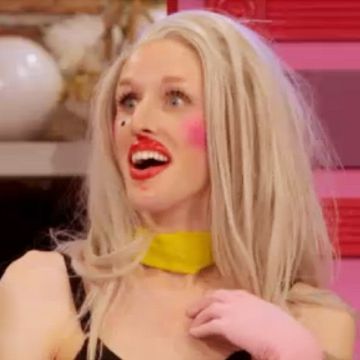 As we ease into the second episode of this season of RuPaul's Drag Race, things are beginning to settle into a sort of rhythm. There are budding friendships and rivalries, the queens' personalities are shining through, and slowly but surely, it's becoming possible to tell the glut of tall, skinny glamazons apart. That said, "Glamazonian Airways" brought its fair share of memorable moments, including some that arguably belong in the show's Hall of Fame.
Let's take a look at the best of the best, in chronological order.
1. Vituperative Violet
Despite winning the first main challenge of season seven, Violet Chachki has nothing but negativity to spew, primarily about judging mainstay Michelle Visage. While it's true that Visage came down relatively hard on Chachki last episode, criticism that obviously didn't hinder her ability to be victorious, Violet had no patience for the critique. Revealing her deeply shady attitude so early in the season seems to rub a lot of the other contestants the wrong way, as they're all wise enough to realize that making waves this early in the process rarely makes for smooth sailing down the road. Beyond that, it's just tacky to be such a poor loser, especially when surrounded by people you defeated. Violet may not be here to make friends, but she should also be smart enough not to blatantly make enemies. Unless she makes a quick course correction, she should probably anticipate being among the last picked for team challenges for some time to come.
2. All Hands on D … eck
Much of the episode's backstory time is spent on Miss Fame. Raised by her grandparents as her mother was struggling with a drug addiction, Fame also survived the untimely loss of her grandfather, who was murdered. She struggles this week with proving herself to be more than just a fashion girl, and many references are made to her husband back home, but perhaps the most memorable time spent with Miss Fame tonight is early in the episode, when she and Trixie Mattel were shown getting quite handsy. Ginger Minj, bless her, was right there to awkwardly sidestep the situation, but Fame and Trixie are definitely a cuddle-buddy couple to keep a side-eye on from here on out.
3. And Then There's Moby
And then there's Moby! This week's mini-challenge requires the queens to remain fierce in the face of the unthinkable: a leaf blower. The results are equal parts hilarious and horrifying, but nothing topped the fact that the guest judge was RuPaul's good friend(?) Moby. His appearance is winning, if completely bizarre, and he even got in on the leaf-blower antics. Delightful!
4. Masterful Main Challenge
As for the crux of the episode, the contestants are divided into teams and tasked with learning a complicated lip-sync number promoting new, fictional airline Glamazonian Airways. Not only would it require musical lip-synching, but queens would be tackling spoken-word lip-synching as well, something not everyone was super familiar with. On top of that, there was a complicated dance routine that everyone needed to learn (with varying degrees of success). The challenge is a grueling exercise in managing performance and look, and is one of the most difficult undertakings we've seen the contestants attempt in recent years, particularly so early in a season. The results are pretty darn great, with certain girls getting a chance to shine and others just not measuring up. Overall, the number reveals just how talented this group is, and that this may be a deeper field than we originally thought.
5. Lackluster Lip-sync
As great as the main challenge was, something was lost when Katya and Sasha Belle geared up to lip-sync for their lives. It's clear that both gave their all, but the fact is that Sasha Belle was just outmatched on every level. Katya fully committed to the material ("Twist of Fate," by guest judge Olivia Newton John), taking the emotions all very seriously while throwing down some truly impressive splits (while dressed in what was probably the best travelwear of the night). Comparatively, Sasha Belle just couldn't measure up, bopping around and going camp where camp wasn't necessarily needed. It was a weirdly off-balance match-up that left it seeming like Sasha was dead on arrival.
Winner: Ginger Minj
Bottom two: Katya and Sasha Belle
Eliminated: Sasha Belle
Line of the Night Honorable Mentions:
"I have the smallest waist in RuPaul's Drag Race history." —Violet bragged about the weirdest record ever
"I LOVE THE MINGE." —Carson Kressley had some complicated feelings during judging
"I feel kind of short and homeless standing next to you." "And rightfully so." —Moby and RuPaul tell it like it is
"I wanted to go for a team that was very diverse. The other team, they look like Aryan Airlines." —Ginger Minj throwing shade at her competition.
Winner:
"Alright, Public School. Calm down." —Trixie Mattel on trying to manage Violet's attitude