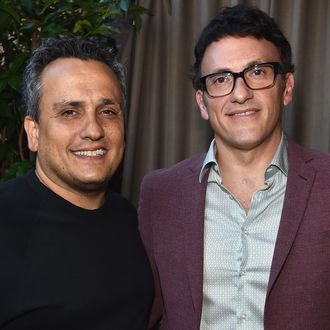 Meet the new Joss Whedon.
Photo: Alberto E. Rodriguez/Getty
After hitting a home run with Captain America: The Winter Soldier and signing on to direct that franchise's third installment, Civil War, Anthony and Joe Russo have quickly become Marvel Cinematic Universe darlings. Now Badass Digest is reporting that they've been tapped to direct Avengers: Infinity War parts one and two, set for release in 2018 and 2019. Marvel is reportedly also in talks with Christopher Markus and Stephen McFeely (writers of all the Captain America movies) to write the films, making them the first in the Avengers franchise without Joss Whedon running the show.
This news comes after reports that the Russo brothers might also be attached to both Marvel's Spider-Man reboot and Sony's male version of the Ghostbusters reboot. With such big titles now at their disposal, the Russo brothers have certainly come a long way since Arrested Development.