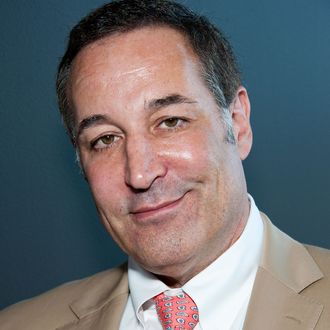 Sam Simon.
Photo: Amanda Edwards/Getty
Co-creator of The Simpsons Sam Simon has passed away.
Simon was born in 1955 and grew up in Beverly Hills. While still in college at Stanford, Simon got work as a sports cartoonist for the San Francisco Chronicle and the San Francisco Examiner. Upon graduation, Simon parlayed that experience into a job working for the animation studio behind Mighty Mouse and Fat Albert. Based on the recommendation of a producer, Simon wrote a spec script for Taxi, which landed him a job on the show's staff and quickly led to him becoming the showrunner. It was on Taxi that Simon first met James L. Brooks, which would come into play a few years later, when Brooks was working with Matt Groening to turn his Simpsons cartoon into a TV series.
Simon's impact on The Simpsons cannot be overstated. As co-creator and co-showrunner, he is often credited with establishing the show's sensibility early on. Ken Levine, a former writer on the show, told Stanford magazine that Simon made the characters "three-dimensional."
"In The Simpsons, the characters are motivated by their emotions and their foibles," he said. "'What are they thinking?' — that is Sam's contribution." He hired the original lauded writing staff, and during his time there, he was the guy they all wanted to impress. As Conan O'Brien said in Vanity Fair:
I remember Sam coming into the room, and me pitching to him, and initially being really intimidated. He's hilarious. It was fun to try and make him laugh. I remember that about Sam. If I could make Sam laugh, I was excited. 
After four seasons, Simon left the show to work on other projects, including The George Carlin Show, and later, The Drew Carey Show. But after The George Carlin Show, while he was still in his 30s, Simon significantly reduced his focus on work, with the help of all his Simpsons residuals. He went on to become a boxing manager, professional poker player, and most prominently, a philanthropist. Simon started the Sam Simon Foundation to rescue stray dogs and later founded a vegan food bank that feeds hundreds a day. He also funded a Sea Shepherd Conservation vessel to help protect marine life.
He was diagnosed with terminal colon cancer in 2012 and remained open and honest about it throughout his battle. Simon fell victim to the disease yesterday in his L.A. home. He was 59.