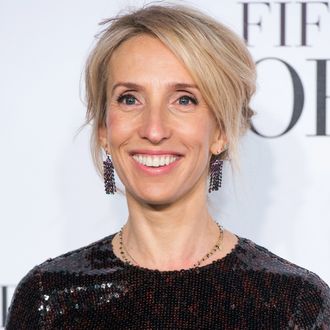 She's out.
Photo: Samir Hussein/Getty Images
It's no secret that Sam Taylor-Johnson has had a rocky relationship with Fifty Shades of Grey author E.L. James. The two have fought for months about who'll have creative control over the film franchise's next two installments, with James demanding that she get to write the script for both sequels. It now appears the two won't have to clash any longer, as Taylor-Johnson has confirmed to Deadline that she's officially exiting the series as director:
"Directing Fifty Shades Of Grey has been an intense and incredible journey for which I am hugely grateful. I have Universal to thank for that. I forged close and lasting relationships with the cast, producers and crew and most especially, with Dakota and Jamie. While I will not be returning to direct the sequels, I wish nothing but success to whosoever takes on the exciting challenges of films two and three."
And while Jamie Dornan and Dakota Johnson are already locked down for the rest of the franchise, we're sure that "exciting challenges" burn won't go unnoticed by any director Universal tries to woo as her replacement.