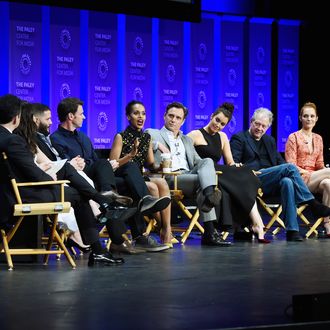 Photo: Frazer Harrison/Getty Images
We don't know much about Lena Dunham's heavily anticipated March 19 guest stint on Scandal, other than the fact that it requires a wig and an appointment at Olivia Pope & Associates. The Scandal cast, who gathered in Hollywood on Sunday for the show's PaleyFest panel, were not much help, either.
"I can say she's an assassin," Guillermo Díaz (Huck) joked when Vulture asked what the New Yorker would be doing in D.C. "No, I can't tell you anything, but I'm excited about Lena [coming on]. It was a big ol' love-fest. She is a huge fan of Scandal, and we love her. She got used to speaking really fast like we do easily."
Will there be some Fifty Shades of Hannah Horvath action? Or perhaps she plays Mellie's wild little sister, a potential obstacle to her political run? Realizing we weren't going to get any closer to confirmation, we shifted gears and asked a few gladiators what they'd want to do if they could switch sides and guest on Girls next season.
Josh Malina (David Rosen)
"There has to be a need for a middle-aged Jew who is never in danger of taking his clothes off on-camera. I haven't seen an episode with that guy, and that is what I would like to bring to the show. I would like to be on it without having to move my daughter out of her school because of what I did on the show. They should find me a nice, safe character to play."
Guillermo Díaz (Huck)
"Oh man, I would love to play someone who has an affair with Hannah. Now that she broke up with Adam and she's kind of alone, I feel like she needs a rebound guy. I would love to go on Girls and be Hannah's rebound guy. Yeah. And I'll get naked in a hot second, so I would be perfect."
Bellamy Young (Mellie Grant)
"Oh my God, I don't know. They're done [shooting this season], and I don't know what they're gonna do next season. Maybe if she's still teaching, I could be at her school. I don't know. I'm not good with stories. I let other people write things. But I will do whatever on Girls, and I'll be happy. I was so happy for her to be [on set] because I am such an enormous fan. I brought in my copy of her book and asked her to sign it. I was a total fangirl, and she was just a love of a human, a radiant light, like Guillermo, sweet. Truly made of unicorns and puppies."
Tony Goldwyn (President Fitzgerald Grant)
"I don't know. I just love that show so much. I think Lena is such a genius. Love interest of someone. That'd have to be it, but who? I'd have to choose who, and how can I do that when there are so many amazing women on Girls? Maybe all four. That is such a good idea. Why choose? They could share. So Lena, if you are hearing this, that's my wish."
Kerry Washington was suffering from laryngitis and didn't take questions. But we caught Girls executive producer Jenni Konner at the show's PaleyFest red carpet, and she alluded to an actual crossover in store for Washington:
"We would love it, and we've talked about it, which is why we can't even say what character we'd want her to play. We've fully taken it that far … We don't know if it's going to happen. We're just talking about it, creatively. She's a busy lady."
Additional reporting by Valentina I. Valentini.