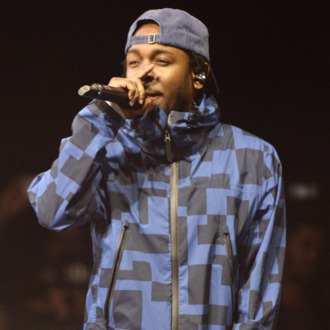 Surprise! Kendrick Lamar's new album, To Pimp a Butterfly, is here a week ahead of schedule. Though if you ask some within his label, its release to iTunes — which strangely made the censored version available first — maybe wasn't as intentional as it looked. Then again, according to Kendrick's tweets, it may have all been part of a plan to commemorate the 20th anniversary of 2Pac's Me Against the World. (The legendary rapper even makes an eerie cameo at the album's end.) Either way, there's finally a new Kendrick album out in the world — so we stayed up all night to present our bleary first impressions, obviously.
"Wesley's Theory" feat. George Clinton and Thundercat
Is there a better way to begin an album this racially ignited than with a sample of Boris Gardiner's "Every Nigger Is a Star"? Probably not. It's also a hell of a way to introduce what we can only assume is Kendrick's riff on the butterfly effect: "When the four corners of this cocoon collide, you'll slip through the cracks hoping that you'll survive / Gather your wind, take a deep look inside, are you really who they idolize? / To pimp a butterfly." Slip into that Flying Lotus production while you're at it, while Kendrick bids farewell to Sherane for a taste of that Wesley Snipes tax-free livin'.
"For Free? (Interlude)"
"Oh, America, you bad bitch / I picked cotton and made you rich / Now my dick ain't free." Burn.
"King Kunta"
You mention cotton-picking, you automatically get a Kunta Kinte metaphor. And over what could've been a DJ Quik and Suga Free collaboration circa 1997, no less. Is the funk within you yet?
"Institutionalized" feat. Bilal, Anna Wise, and Snoop Dogg
Finally! The Kendrick Lamar–Snoop Dogg collaboration California's been waiting for. Sorry to be a letdown, but this track's really all about Bilal echoing Kendrick's grandmother's unorthodox — though too real — wisdom: "Shit don't change until you get up and wash your ass, nigga."
"These Walls" feat. Bilal, Anna Wise, and Thundercat
Kendrick wants to penetrate all sorts of walls: your little red wagon's walls, state penitentiary walls, the walls enclosing your mind. If walls could talk, indeed.
"u"
Kendrick mentioned in his Rolling Stone cover story that there'd be a dark precursor to his self-love anthem "i," and it takes shape atop what sorta-kinda sounds like a faint Rihanna sample? The album credits suggest that's actually either SZA or Jessica Vielmas, but can you imagine? (Warning: You might audibly bawl hearing Kendrick in such emotional distress on this one.)
"Alright"
We left off, on "u," with Kendrick screaming in a hotel room as his "suicidal weakness" comes to a head. How'd he reach his breaking point? "The evils of Lucy was all around me." (More on her/him in the next song.)
"For Sale? (Interlude)"
There are (intentional?) Beatles references sprinkled all over this album, so if the character "Lucy" feels like a "Lucy in the Sky With Diamonds" drug reference, that's as good a guess as ours. But, given everything we learn about Lucy in this song, it's more likely Lucy's a manifestation of Kendrick's inner demons, i.e. Lucifer — a double entendre Atmosphere's Slug previously popularized.
"Momma"
That part where Kendrick lists all the things he thinks he knows? You've surprisingly heard it before (skip to 3:20). That K. Dot's a sneaky one.
"Hood Politics"
This one, too! Plus, a well-deserved Killer Mike shout-out and a Sufjan Stevens sample (!).
"How Much a Dollar Cost" feat. James Fauntleroy and Ronald Isley
Kendrick hopped on a plane and flew to St. Louis to get permission to use an Isley Brothers sample on "i," so of course Ron Isley returned the gesture by singing the outro on this song — which contains a (probably?) accidental nod to Fifty Shades of Grey. And do we detect a Radiohead sample here, too?
"Complexion (A Zula Love)" feat. Rapsody
Expect Kendrick to catch a ton of flak for that Willie Lynch name-drop. But let's talk about Rapsody's (dare we say?) scene-stealing verse instead.
"The Blacker the Berry"
Still one of Kendrick's top 15 verses, with some added Lalah Hathaway vocals to further cement the album's soul cred.
"You Ain't Gotta Lie (Momma Said)"
It's at this point we'd almost rather hear from Kendrick's parents directly than have his mother's words rehashed by her son. (Though you can never really have too much Kendrick in your life.)
"i"
Haters of the original version should appreciate this looser extended reworking — reminiscent of his SNL performance — which includes a verse dedicated to mocking Oprah's no-N-word policy.
"Mortal Man"
Tupac's back. Yep, for the finale, Kendrick interviews the ghost of 2Pac (using audio from a 1994 interview). Take that, Blank on Blank!