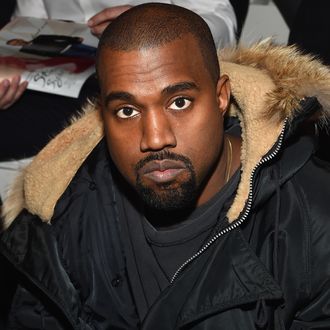 Kanye West.
Photo: Mike Coppola/Getty Images
An internet vigilante served Kanye West overdue justice Sunday by rigging Loser.com to redirect to the rapper's Wikipedia page. Remember when Kanye did that thing at the Grammys where he said Beck wasn't respecting artistry by accepting the Album of the Year award and not giving it to Beyoncé (and then he revealed in an interview later he hadn't listened to Beck's album)? Maybe someone is still pissed about that, or maybe someone is just pissed at Kanye's charisma in general. Or maybe someone just wanted to troll him because it's the first day of March, and what a way to start the month! There are a lot of maybes. Here are some more, in the form of famous people who could have done it (but most likely didn't):
Kim Kardashian West: Maybe they are in a fight.
North West: Maybe they are in a fight because she secretly hated this because it was too cold and muddy.
Beck: Maybe Kanye's at-mentionless Twitter apology wasn't enough.
Amber Rose: Maaaaaaaaybe.
Beyoncé: Maybe she is mad he didn't go full Kanye at the Grammys this year.
Zane Lowe: Maybe he thought it was funny that Yeezy cried during their interview.
Drake: Maybe he's gloating because his whole album is charting.
Taylor Swift: Maybe their dinner was weird.
Olivia and Meredith: Maybe it was a wonderful dinner, and these two were jealous they weren't invited.
Mike Dean: Maybe he was mad that Kanye almost forgot to wish him a happy birthday today.
At time of publication, Loser.com still redirected to the Wikipedia page because sacrilegious haters are still throwing figurative bricks through the stained-glass windows of the church of Yeezus. Kanye most likely doesn't care, though. He's busy making those birthday wishes just in the nick of time (Happy birthday, Mike!):