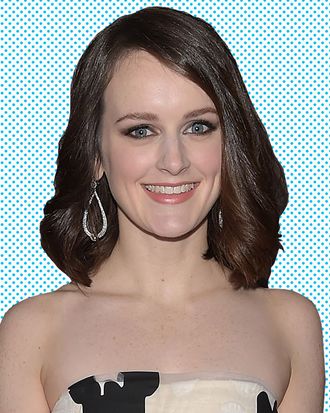 Photo: Jason Kempin/Getty Images
Just when we thought assistant cook Daisy Mason was out of the Downton Abbey kitchen and on to a new life in London, she's been sucked back in again. We spoke with Sophie McShera, who plays tough-but-tender Daisy, on a day off from shooting next season's shows to find out whether sweet Daisy will ever fly the coop, about her nasty turn as Cinderella's wicked stepsister in the upcoming Disney film, and how Saved by the Bell helped launch her career.
Is Daisy's should-I-stay-or-should-I-go moment because of Mrs. Patmore's tearful reaction to her announcement she's leaving for London?
Yeah, it's difficult because Mrs. Patmore loves her. She wants to set her free, but doesn't want to set her free. And it's really tricky for Daisy because she wants to follow these opportunities, but she has this lovely sense of home with this woman who cares for her. Her eyes have been opened to this world outside of Downton. Daisy knows she has time, that she doesn't have to rush, that the opportunity is not going to go away. She doesn't have to be so bold and hasty. But I think we'll see she'll also open her eyes to her relationship with Mrs. Patmore and see that that's also really important and special and dictates how she'll do things. 

I read you and Lesley Nicol (Mrs. Patmore) are close in real life. Has the mother-daughter relationship has rubbed off on you?
Oh, I call Lesley "telly mommy," "telly" for short, and I love her. We love each other. I look forward to any scenes with her, which is a lot. I think that's when I'm at my happiest.
I couldn't help but think maybe your contract was up or you were in negotiations for a new one!
[Laughs.] Well, I'm filming at the moment, so that's kind of a spoiler alert. But … everyone in the cast has this, when you get the script, and there's talk of your character leaving, you have a little bit of panic and have to skip through everyone else's scenes and just read your bits to check to the end to see if you're going to leave. When I got that script I was thinking, Oh my gosh, does she leave? So no, it wasn't to do with that.
Do you think Daisy will ever find love? There was that unrequited thing with Alfred, and Harold Levinson's valet fell for her and wanted her to come to America. Lesley asked for romance and got it. Can you ask [Downton creator] Julian Fellowes for a boyfriend?
I think it's good that she's taken steps back from chasing boys. And it was really lovely that she had that experience where somebody liked her, and she appreciated that, but she made the good decision that she didn't like him enough to move to America. This year, she's really concentrated on education and bettering herself. But I'm sure that won't last long cause she has an eye for a tall footman, that's for sure!
Well, there was one who just helped out in London!
[Laughs.] Any tall footman that comes anywhere near the set we go, oh, is that Daisy's new boyfriend? It's hard; she usually fancies them and they don't like her. Or they like her and she doesn't like them. She can't seem to find that happy balance. But hopefully she will.
Do you think the servants will figure out the truth about Lady Edith and Marigold? It sure seems to be spreading like wildfire among the family, with Robert having just figured it out.
Definitely, the servants have a good chance of sniffing out the upstairs gossip because that's like their entertainment. [But] it definitely won't be Daisy. She's not really got her eyes and ears attuned to upstairs in the same way, 'cause she's not really up there. So I think she and Patmore will be the last to know.
Is Branson [Allen Leech] really leaving?
I don't think I'm allowed to discuss that!
You went from playing kindhearted Daisy to wicked Drizella, one of Cinderella's stepsisters in the new Disney movie. What can you tell us about her? I've seen photos of you with big red hair and a bright-yellow dress. Quite different from plain Daisy.
The role was brilliant; it's kind of fun to be a baddie. I had so much fun with Lily [James, Downton's Lady Rose, who plays Cinderella] cause we know each other. There was only one time where me and Holiday [Grainger], who plays my sister, had to be super mean to Lily in a scene where we rip her dress and say she can't go to the ball. And [Lily] just looked so heartbroken. Every time they said cut, we apologized. But most of the time it was quite fun and silly. Lily was so perfect for that role.
Did you pick up any acting tips from Cate Blanchett, who plays your mother, Cinderella's evil stepmom?
It was nerve-racking before we met her because I'm such a huge fan and didn't know what to expect. She couldn't have been kinder or nicer or more generous. As soon as Holiday and I met her, we were even more in love with her. It was incredible to get to be in scenes with her because to watch her work and work with her was such an experience. We were just pinching ourselves every time we did a scene.
I read your big break came when you were 12 because you could do an American accent.
It was my first Saturday drama club and they were sending five girls to London for a play audition. One was ill or dropped out and couldn't go. They were desperately trying to find someone they could take and they pointed at me and said, "Can you do an American accent?" And I said, "Yeah." I'd been watching Saved by the Bell and I just thought, Yeah, I can probably do that. And they said, "Can you sing?" And I said, "Yeah, I can." And then I went for the audition and got the job. It was The Goodbye Girl.
You also starred in the musical Annie.
Yeah, in the West End, and then I did a little bit of the tour. I think if I had to do that now, I'd be horrified and have sleepless nights. But at the time, I didn't realize it was such a role. And I had so much fun doing it, which is the joy of being 12, I guess.
So what can you tell us about next season's Downton? Do you get all of the scripts in advance?
We usually get five or six scripts and we do a big read-through for two days. And then the other scripts come through as we're shooting. We've been doing it about a month; we shoot for six.
Any hints about Daisy?
At the moment we've been doing loads of dancing; the servants have to do this dance and we're just in the background. Daisy is still very much on the path of education in a way and still being very, very feisty.
Can you squeeze in other work while doing Downton?
Not while we're doing it, but I try and squeeze in stuff during the other six months. I'm hoping I'll do The Job Lot, which is going into season three. It's a sitcom set in an employment agency. I play a very work-shy character who comes in each week trying to get out of any work.
Last question: What's your favorite thing to cook?
Me and Lesley are a big letdown to everyone we ever meet because they ask us if we can cook and we're both kind of rubbish at it. But I'm learning. I do loads of one-pot things because I feel like you can't go too far wrong. And I make a lot of soups and casseroles, which is so boring, but it's the only thing I can do!