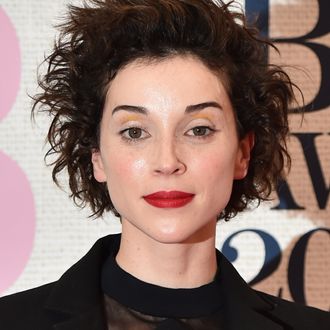 New St. Vincent to brighten up your Monday.
Photo: LEON NEAL/Getty
Sunday night's episode of Girls had two big reveals, one of which was a never-before-heard demo from St. Vincent. Originally recorded in 2014, "Teenage Talk" didn't make the cut for her self-titled album but was unearthed for Girls — partly because Lena Dunham and Annie Clark are friends — and played during the episode's credits. Hear the dreamy, sun-kissed gem that we wish were much longer than it is.