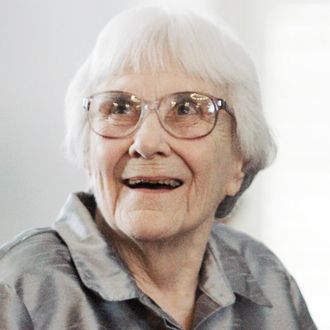 Harper Lee.
Photo: Rob Carr/Corbis
The skepticism behind Harper Lee's decision to publish a To Kill a Mockingbird follow-up has not abated. Now it has been revealed that Alabama officials have been investigating at least one report of potential elder abuse. The New York Times reports that over the course of the last month, the state has interviewed Lee, employees at her assisted-living facility, and her friends — the latter group still seemingly split into one camp that contends the author is lucid and another that says she's in her own world.
An anonymous doctor who has known the author for years reportedly filed a complaint with the state because he wants to know whether Lee was too infirm to have signed off on publishing Go Set a Watchman. Alabama's Human Resources Department and the Alabama Securities Commission are digging to see if there's any evidence of financial exploitation going on.
A source close to the investigation told the Times that Lee, 88, seemed clearheaded when the state conducted its interviews with her. On the whole, however, it sounds like many of the state's findings mirror what's already been broadcast to the public, with some of the state's interviewees telling the Times that they told officials she's not infirm and others saying she struggles with short-term-memory problems. Confusion continues to mount, and criticism continues to fly in the direction of Lee's lawyers and publishers, both of whom have been painted as dodgy and opportunistic. The state departments in question have yet to comment on or reveal anything from their investigation.