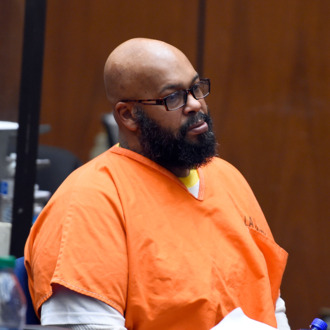 Marion 'Suge' Knight appears in court for his bail hearing at Criminal Courts Building on March 20, 2015 in Los Angeles, California.
Marion "Suge" Knight collapsed in a courtroom Friday after a judge ordered him held on $25 million bail for murder, attempted murder, and a hit-and-run. His attorney Matthew Fletcher said Knight hit his head when he fell and was unconscious when he was wheeled out on a gurney and taken to a jail hospital ward. (If you are of the kind, TMZ has video of the fall). Fletcher said that Knight, who is diabetic and has a blood clot, has been held in solitary confinement and hasn't received proper access to his medication.
This is actually the fourth time that Knight has been taken by ambulance from a courthouse since he was charged with killing Terry Carter in early February. Deputy District Attorney Cynthia J. Barnes said she believed Knight "did it in front of the cameras." All of this will make for an excellent episode on season two of Empire.