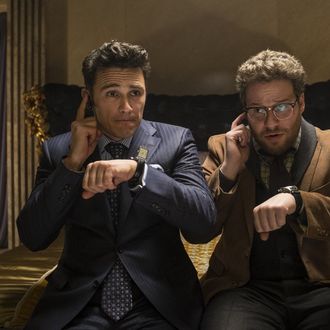 Seth Rogen and James Franco in The Interview.
Photo: Sony Pictures
Activists in South Korea are prepping to send North Korea balloon packages that include roughly 10,000 DVD copies of The Interview this week, as well as scads of anti–North Korea propaganda leaflets, the AFP reports. North Korea, which isn't having any of this, said Sunday it will blow up the balloons and consider the airdrops "a de facto declaration of a war." South Korea's military reportedly said it will retaliate if the North opens fire. Seoul initially backed the activists, who believe they're exercising their democratic right of freedom of expression by carrying out the launches; however, the South has also called for restraint to avoid provoking their neighbors to the north. The exact time and location of the drops — which are probably not an April Fools joke — are being kept under wraps, so stay tuned for more drama.