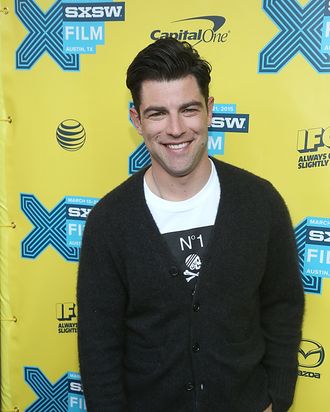 In Michael Showalter's new film Hello, My Name is Doris, which bowed Saturday night at SXSW, Max Greenfield plays John Fremont, a charming artistic director and the love interest of Doris, an accountant at the same company played by Sally Field. What ensues is a semi-awkward and endearing pursuit between an older woman and a younger man. Vulture sat down with Greenfield in the historic Driskill Hotel in Austin before the premiere and discussed everything from making out with an acting legend, getting "unhealthily addicted" to CrossFit, and how there's a little bit of Schmidt in everything he does.
How do you feel about making out with Sally Field?
It was great. She might be the best kisser. It really felt right for the film and the characters and not gratuitous, so when we would [make out] it was rewarding. It felt like a release, and there is that element towardd the end — like, why not make out? It was important that the audience roots for them.
What was it like working with such a veteran and legend?
You try to underestimate [the legend status] so that you don't lose your shit on set.
Do you have a favorite film of Field's?
She's so heartbreaking in Mrs. Doubtfire. Robin gets to play all the funny and big moments in that movie, and Sally is such an unsung hero. I mean,, it's a movie about divorce. It's devastating. It's devastating in the way that you want them to be together, but know that they're genuinely not right for each other.
Do you feel like Hello, My Name Is Doris is making fun of hipsters?
Michael [Showalter] didn't set out to make fun at all. I think there is a beautiful element to these hipsters. As much as you want to make fun of them, they have all the coolest shit.
Really? I felt like at times they were being poked fun at just a bit, like when each of them gets to say what craft product of the moment they're making and selling.
I don't live in a hipster neighborhood, but they're there in L.A., and I'm always so impressed with all this cool shit. The truth is, I'm just not hip enough to live in that world. But there is this sense of optimism in them, and I think this film is almost oddly celebrating this culture. Doris is doing the same thing they are — knitting or making cornbread. That would be something some hipster flea market would be selling. There's a celebration of the creativity that exists in that culture.
Was there anything you could relate to in your character John Fremont?
Oh, so much. He was so different from Schmidt, who I do eight months out of the year. It was so refreshing to slow down. There's something really sweet and naïve about him, and one of my favorite things about him are these dim moments he has.
That's what you relate to?
Sure. All too well. But you know, he's not the coolest guy in the world.

Well, neither is Schmidt.
Well, Schmidt's another whole thing.
But I felt like I saw a couple of moments of Schmidt.
It would be silly if you didn't. I've done so much on that show.
You've become a household name through New Girl. Do you feel like it'll be hard to break out of that mold? Will you have to pull a Sarah Silverman and play this dark, druggie, sex-addicted mother?
If I were offered a druggie, sex-addicted mother, I'd definitely do it. I don't really look at it like I have to do something opposite of Schmidt. There is so much of Schmidt that works for me, probably that anything I read there will be a little bit of Schmidt in there. It's what I respond to and comedically it fits into the rhythm that I understand. It'll probably be in anything I do a little bit.
So, the last time we interviewed you SoulCycle was a big part of your life. Now I'm seeing tweets about CrossFit. Are you a workout junkie?
I love spinning, but I'm off it. I've gone to a couple classes with my wife, and I can't make it through one. But having said that, I've been doing CrossFit for about five years now. It's the greatest thing on the planet. I'm so unhealthily addicted to it. I'm right in the middle of CrossFit Open and you have to submit your score by Monday, so I knew I had to do it before I left for Austin. So I went and did it Friday morning right before I had an audition, and I walked in sweating so bad. They must have thought I was nervous. I wasn't. So yeah, I had a very good performance. I was very pleased with it, and now I'm sore.