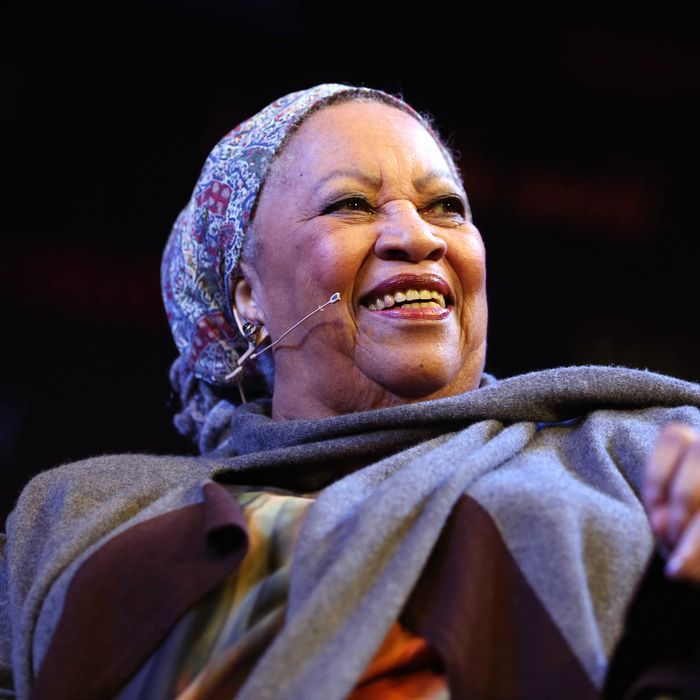 Morrison at a previous event.
Photo: Dimitris Legakis/Corbis
Watching Toni Morrison accept the National Book Critics Circle's Lifetime Achievement Award last night, bookended by standing ovations, wheelchair-bound but undiminished in a shimmering silver dress and jaunty grey beret, was a little like watching Bruce Springsteen perform a nostalgia gig at the Stone Pony. She's an arena player, the only living American winner of the Nobel Prize for literature. To see her in the New School's auditorium (elegant and spacious as it is) on the night of the NBCC awards (influential as they are) is to be reminded that book critics are most excited not by their collective power, but by their ability to surprise — even upstage.
The 84-year-old novelist began her speech with the same comic bravado she brought to a recent appearance on The Colbert Report. After the poet Rita Dove introduced her by invoking Athena and orchids ("the queen bees of the flower world and you'd better not mess with them"), Morrison said, "Rita, that was beautiful. And true." But then she remembered the humbling experience of publishing her first novel, The Bluest Eye, to a critical reception she found "slight, indifferent, even hostile."
The tendency in 1970 was to group all African-American books together, often in a single review spanning several genres. Only one critic had bucked the trend, reviewing The Bluest Eye with the seriousness it deserved. That was John Leonard, who launched Morrison's career and kept it burning with his personal enthusiasm. He was one of the founding members of the National Book Critics Circle, which gave Morrison her first big award for Song of Solomon seven years later.
Now, she continued, the organization that's survived its founders is fighting a broader battle. "It's more than unique and more than necessary," she said. "I think it's urgent. The publishing world is in flux, facing new kinds of distribution. Bookstores are shutting or reassigning themselves. Companies merge to avoid collapse. This is the situation, which may change, but what I know will always be available is the NBCC."
The organization now awards a first-book prize in Leonard's name. Phil Klay's Redeployment won last night; he'd already gotten the 2014 National Book Award for fiction. Compared to the NBCCs, the NBAs tend toward conventional wisdom, and Redeployment was one of the night's most conventional picks; the other was Marilynne Robinson's Lila, for fiction. But both were exceptions to the rule of the NBCCs, which prefer to reward the odd writer out.
Would the considerably more glamorous National Book Awards ever nominate the same book in two categories? The NBCC gave Claudia Rankine nods for her idiosyncratic meditation on race Citizen: An American Lyric, which straddles poetry and criticism, in both categories. Rankine won for poetry and took the opportunity to thank her independent publisher, Graywolf Press. "They helped me take this book through chemo, through radiation, through this very difficult time in my life," she said.
The winner for criticism was posthumous. The victory of The Essential Ellen Willis, a collection of the late critic's work published by the obscure University of Minnesota Press, brought her young daughter and editor, Nona Willis Aronowitz, to the stage, along with her infectious enthusiasm. "People are always saying that awards don't matter," she said, "but this is really cool."
Roz Chast, the author of Can't We Talk About Something More Pleasant?, a graphic memoir about caring for her dying parents, had been so certain of defeat that she'd bet her two parrots' lives on it, and joked in her acceptance speech that she now faced an awkward domestic situation. But she praised the victory for graphic works — another hybrid the NBCCs were quicker to honor than bigger, better-publicized awards. The critic John Lahr honored his own victory in the biography category, for a life of Tennessee Williams, by making a characteristically vivid baseball analogy, in which a "walkoff home run" means the final great book of one's life — which, at 73, he hoped he hadn't yet written.
Neither the fiction or general nonfiction winners showed up. David Brion Davis, author of The Problem of Slavery in the Age of Emancipation, was ill, forcing his stand-in to note that since he'd already won the Pulitzer for the first volume of his Problem of Slavery trilogy, 48 years ago, and "since the second part of the trilogy won the National Book Award," it was "thrilling" that the NBCC awards had finally gotten around to it.
The final prize of the night, for Robinson's Lila, wasn't shocking, and her publisher, FSG head Jonathan Galassi, gave a speech that clocked in at just under 20 seconds. It was hardly a momentous end to a quirky evening, but sometimes, even fractious critics coalesce — which is comforting, if a little less exciting than the discovery of a marginal voice that will go on to take over the world. Maybe next year.