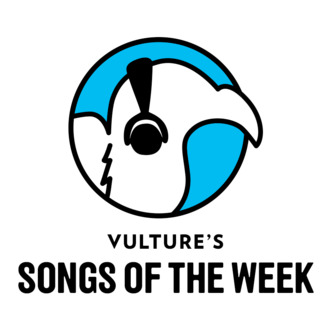 Every week, members of the Vulture staff highlight the best new music of 2015. We do not discriminate; as long as the song is worthy of your ears and attention, you will find it here. Read our picks below, share yours in the comments, and subscribe to the Vulture 2015 Playlist for a comprehensive guide to the year's best new tunes.
Ameriie, "Out Loud" 
"Best! Song! Ever!" Björk recently shouted at a club when Ameriie's classic song, "1 Thing," came on the speakers. Damn, that's a good song. So where is Ameriie? Cue: "Out Loud," just in time for the Björk shout-out, a groovy stomper that pairs her back with "1 Thing" producer Rich Harrison. —Lindsey Weber (@LindseyWeber)
Action Bronson, "City Boy Blues"
There's been a lot of talk in the last week about the live-sounding instrumentation on Kendrick Lamar's new album, but the same should be said for Action Bronson's debut. It's a tour de force of rock, rap, and jazz influences amalgamating into a sonic kaleidoscope that only Bam Bam could possibly make sound cohesive. It's a shame no one thought to book him for the New Orleans Jazz Festival this year, because "City Boy Blues" would've went hard. —Dee Lockett (@Dee_Lockett)
Active Child, "1999"
Just imagine if Sam Smith were as romantic as Sade. That's Active Child, whose "1999" combines harps and strings and falsetto as if it were begging to be used in a Being Mary Jane love scene. (Just a prediction.) —LW
Jhene Aiko, "living room flow"
The song is called "living room flow" because it is so hot that you don't have any time to walk to the bedroom — or capitalize letters — before getting it on as it plays in the background. —Marcus Jones (@MarcusJonesNY)
Alabama Shakes, "Future People"
The Shakes are trying out a few different sounds with their new album, and from what we've heard so far, none of them will repeat the earthquake-rock we're accustomed to from their debut. They're experimenting most with the blues, making for an even sexier filter on Brittany Howard's booming vocals. Her voice sounds especially siren-y on "Future People" swept up in all that reverb. —DL
Charli XCX, "Famous"
I still believe that Charli XCX's gleefully anarchic Sucker is one of the best pop records of the last few years, and I've been waiting for her to put this one out as a single. Now complete with a fittingly bizarre Eric Wareheim–directed video, this is the perfect song to crash a party to. COME ON, LET'S LOSE CONTROL. —Lindsay Zoladz (@lindsayzoladz)
Death Cab for Cutie, "Little Wanderer"
Remember when Ben Gibbard only wrote songs with lyrics that didn't quite make any sense? Those days are behind him. On the band's new album, Kintsugi, Gibbard's lyrics take a more straightforward approach, especially on this song, which is a delicate story of both longing and and loss. —Lauretta Charlton (@laurettaland)
Earl Sweatshirt feat. Vince Staples, "Wool"
As if we needed more proof Earl and Vince need to make an entire project together. Earl has said his sophomore album, surprise-released on Monday, is the first project he "fully stands behind," and it's easily some of his best work to date. It ends with my favorite beat on the whole album (produced by Earl himself), which has two of the new rap generation's most promising young artists going to town over it — flexin' that West Coast slang and dizzying wordplay like they've been doing this since NWA's day. —DL
FEMME, "S.O.S."
The perfect opener for Charli XCX, FEMME (or, Laura Bettinson) goes hand-in-hand with Charli's very loud, very catchy, very girl-power sound. Here's your squad. —LW
Geologist, "Stretching Songs for Spring"
Animal Collective has been so busy being successful over the last few years that they haven't had as much time to just make some weird effing shit. That's why New Psycho Actives Vol. 1, their new free digital single, is so great to hear. Less songs than sound collages, we prefer Geologist's (Avey Tare's is also good and much more yelpy), which sounds like if the sirens from Greek myths were aliens. It's becoming yet menacing, delicate yet frightening. —Jesse Fox (@JesseDavidFox)
Hop Along, "Powerful Man"
Ever since a couple weeks ago, when Lindsay Zoladz got to write about a Hop Along song, I've been jealous. I've been listening to their last album, waiting, biding my time, until this moment came. "Powerful Man" is their second single off their upcoming album Painted Shut (it comes out on May 5), and it's a little change of pace for the Philadelphia quartet. Less raucous and more sweet, it has a real Pretenders vibe. Still, one important thing remains: that voice. —JDF
LION BABE, "Wonder Woman"
This feels like Jillian Hervey's bid to play Foxxy Cleopatra in the eventual remake of Ausitn Powers: Goldmember. They even use Pharrell, who also produced Beyoncé's "Work It Out." —MJ
Ludacris, "Come and See Me"
With another Fast & Furious movie, we get another Ludacris musical (!) tie-in, naturally. This one's also part of an upcoming album called Ludaversal, and has beats via Mike Will Made It, but you know it's mostly about cars: "Every time I pull out a whip I cause a scene." Don't make him open his trunk. —LW
MNEK, "More Than a Miracle"
I cannot count how many times I've listened to MNEK's "More Than a Miracle" so far — and it's just one of the six new tracks off his EP, Small Talk, which is already out. With pop and dance sensibilities, MNEK manages to be contemporary and nostalgic at the same time. —LW
Shamir, "Call It Off"
Shamir's new song has star written all over it. It's the latest we've heard from the Las Vegas native's upcoming debut album, Ratchet, since his breakthrough single "On the Regular." If Kylie Minogue, Grace Jones, and Madonna had a musical threesome, it'd result in this song. Which is to say that "Call It Off," an anti-thot companion piece to Tink's "Ratchet Commandments," will likely make its way to every club in Europe this spring, so get hip to it now. —DL
Years & Years, "Worship"
Here is your chance to get in early on listening to the electro-pop trio Years & Years before your niece becomes obsessed with them. —MJ
Do you like good music? Of course you do! Subscribe to Vulture's 2015 Playlist to hear the new music we're listening to every week.