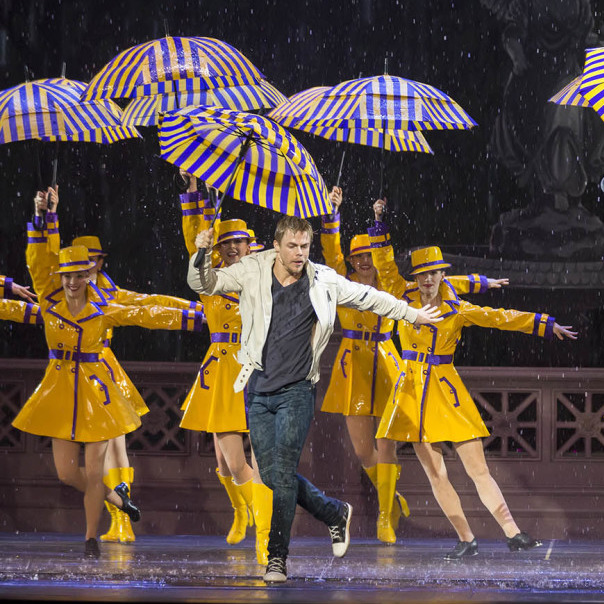 New York Spring Spectacular at Radio City Music Hall in New York City.
Photo: Carl Scheffel/MSG
The largest Broadway houses have fewer than 2,000 seats; Radio City Music Hall has almost 6,000. So you might expect Radio City's New York Spring Spectacular, a sticky amalgam of musical theater, corporate masturbation, and high-fructose corn syrup, to be about three times as bad as, say, Mamma Mia! But that would be to underestimate the awesome tackiness of Spring Spectacular, a show assembled largely to extend the Christmas Spectacular brand into a new seasonal niche. (Cue the hip-hop Easter bunny.) Broadway values, such as they are, are mere starting points in a venue that, spreading over 12 acres, resists subtle gestures; indeed, an earlier version of the show, with a book by Pulitzer Prize–winner Doug Wright, was yanked less than a week before it was scheduled to open last year, possibly because it bore too great a resemblance to actual theater. Astonishingly, the thing that opened last night is the improvement.
Its "book" is credited to Joshua Harmon, who I suspect is an acronym for a committee of 12 marketing executives assembled by the show's producers, James Dolan and Harvey Weinstein. Whoever actually wrote it, it is a very peculiar tale, apparently put together on the Holmesian theory that whatever is left when everything else is proved impossible must, however unlikely, be the story. Otherwise how to explain the setup, in which a recently dead dancer named Jack (Dancing With the Stars' Derek Hough) is told by God (Whoopi Goldberg's voice) that he can win his angel wings only if, within 24 hours, he can convince a high-tech billionairess named Jenna (Laura Benanti) to spare the job of a lovable old New York tour guide (Lenny Wolpe) whose business she is buying out and taking "virtual." How's that again? No matter; before you can say "product placement," we're off on a series of whirlwind visits to Manhattan tourist meccas including the Metropolitan Museum, Central Park, and Donald Trump's head, with prominent shout-outs to Madison Square Garden, the Knicks, and the Rangers (all, like Radio City, owned by Dolan), and Broadway's Finding Neverland (produced by Weinstein).
To be fair, the visual technology, involving a 50-foot "flying 3-D LED wall" and a "master clock" to control it "to within a millionth of a second," is sensational and often delightful, as when, at the Met, several ballerinas sneak out of their Degas "painting" and materialize onstage so Benanti can sing "I Could Have Danced All Night." The glow-bracelets that some patrons receive, color-controlled to match the mood onstage, are also appealing. And a scene featuring life-size animatronic puppets of Patience and Fortitude, the New York Public Library's main branch lions, even features actual humor, courtesy (one presumes) of Tina Fey and Amy Poehler, who voice the beasts. (Pohler: "What does Patience mean?" Fey: "It means 'beautiful.' 'The more beautiful one.'")
But except for Benanti's sly, tossed-off quips (she escapes from the horror unscathed), that's basically it for laughs, smothered as everything is by a nearly psychotic need to overwhelm. A partial list of the show's jaw-droppers includes a fashion show featuring Isaac Mizrahi, Zac Posen, and Diane Von Furstenberg; a quiz with an obvious audience plant; a hurried tribute to immigration featuring Neil Diamond's "Coming to America"; T-shirt cannons; confetti cannons; live dogs; a montage of New York–themed movies; Dave and Stuart from Despicable Me; a drone kite; and 500 gallons of water for "Singin' in the Rain." This barrage soon turns the tone decisively sour if not flat-out grim, even for Goldberg. Aside from voicing God as a Dolan-esque corporate overlord, she speaks for the 26-foot Statue of Liberty, who despite the 20 motors "in her face alone" has snarly lips and an I'll cut you expression.
Clearly, the Spectacular is not designed to satisfy or even address those of us who wept gallons of tears over Caroline, or Change. So if there is no drama here, and nothing resembling a human character, well, perhaps it's wrong to apply theatrical standards to whatever this is. Still, you might think that with all the know-how on hand and all the millions blasted at the stage as freely as the confetti, something a bit less inept might have emerged. Why hire Broadway professionals like Diane Paulus (who, big surprise, is also directing Finding Neverland) and Randy Weiner (the two are credited as "creative directors") and Warren Carlyle (direction and choreography) to cook it up if all you aspire to is family-friendly, lowest-common-denominator cheese? The only truly coherent aspect of the Spring Spectacular is the one borrowed from the Christmas Spectacular: the Rockettes themselves. They are as precise and trustworthy as that master clock, and fill the enormous space without apparent strain. (Even the remote-controlled multicolor LED jackets they wear for the requisite "New York, New York" kick line are less reliable: The afternoon I saw it, one Rockette's costume went dark.) But the rest is best ignored. Or perhaps not: It may be that we should look at this tourist monstrosity not as a cooptation of Broadway but as a desperate warning to it.
The New York Spring Spectacular is at Radio City Music Hall through May 3.