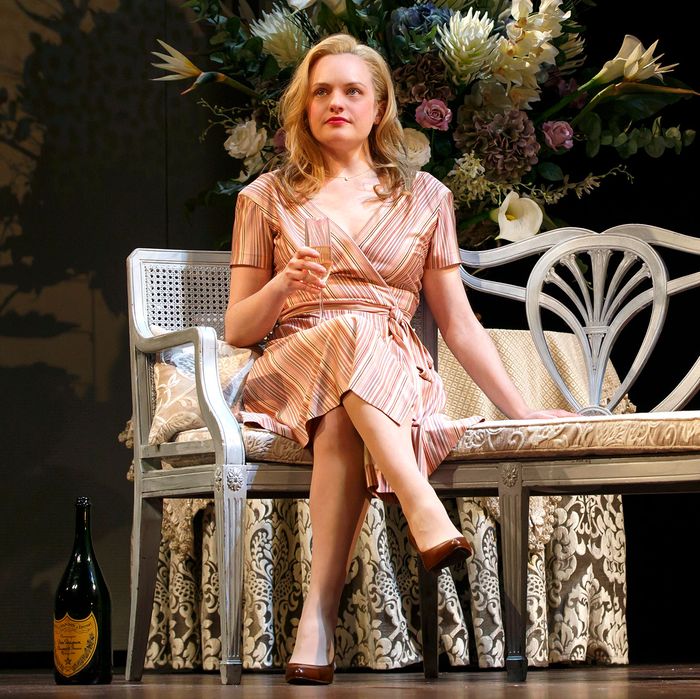 Elisabeth Moss in The Heidi Chronicles.
Photo: Joan Marcus
You cannot look at Heidi Holland, the heroine of Wendy Wasserstein's The Heidi Chronicles, without seeing, dimly and slightly out of phase behind her, Wasserstein herself. It's not just the similarly twinned initials. Wasserstein was born in 1950; Heidi, to judge by the play's internal chronology, in 1949. Both went to graduate school at Yale (Wasserstein for drama, Heidi for art history) and struggled for years with the problem of being a feminist despite a repressed, can't-have-it-all, pre-feminist mindset. Both resolved the parenting part of that struggle belatedly and unconventionally, without a husband: Heidi at 40 by adopting a girl; Wasserstein by giving birth to one at the age of 48.
We cannot know if either ever resolved the other parts of their struggle. For Wasserstein, that's because she died, of lymphoma, at 55, a loss that inevitably haunts The Heidi Chronicles, now having its first Broadway revival in a welcome but somewhat somber production starring Mad Men's Elisabeth Moss. For Heidi, the uncertainty is aesthetic. However autobiographical, her chronicle covers only a slice of her life: from 1965, when we meet her clutching a copy of Death Be Not Proud at a high-school dance, to her daughter's arrival in 1989. In between, we drop in on her every two or three years (she alone is in all 13 of the play's scenes) as she bonds with women she doesn't take very seriously while seriously wrangling with two men who are clearly wrong for her: a "charismatic creep" named Scoop, who's married, and a gentle pediatrician named Peter, who's gay. Even so, Heidi never really chooses or unchooses either, a frozenness that is at once Wasserstein's central insight — transitional generations get chewed up in the machinery of change — and one of the play's baffling limitations.
The limitation is, in part, structural. There are, after all, only two ways a person can be seen to evolve in a chronicle like this: suddenly or subtly. Wasserstein chooses "subtly" for Heidi, even as the world around her, with its bell-bottoms-to-power-suit transformations, goes through carnivalesque contortions. What evolution Heidi may be undergoing is masked by her style. She always dresses more conservatively than her pals, thus avoiding the hilarious extremes of Jessica Pabst's costumes. And her emotional style is no less obscuring; whether offered a dance or a joint or an illicit kiss (by Scoop, at his wedding), she indulges herself only moderately or briefly, or stands on the sidelines observing. Her feminism is likewise intellectual, having more to do with the dead women artists she studies than the living women around her. Visiting a "consciousness-raising rap group" in an Ann Arbor church basement in 1970, she resists "sharing" about her relationships because the subject, she says, is "personal." But as one of her hosts points out:
"Personal" has kept us apart for so many years. "Personal" means I know what I'm doing is wrong, but I have so little faith in myself, I'm going to keep it a secret and go right on doing it.
This is Wasserstein at her most trenchant, offering the kind of observation that earned The Heidi Chronicles both the Tony award and the Pulitzer Prize. I can't think either was for the dramaturgy; even when Heidi relents, describing her emotional dependence on unavailable men, she somehow remains aloof and maddeningly resistant to change. Meanwhile, everyone else, whom we drop in on less frequently, seems to change like crazy, in scenes (I almost said sketches) written so broadly they now seem dated. At least two of them — the rap-group meeting as well as an inane panel discussion in 1982 — have the stock setups and bright satirical tone of early Saturday Night Live, only instead of Gilda Radner we have Tracee Chimo.
At least Chimo, playing (among other stereotypes) a lesbian shepherdess and a lacquered TV host, nails the caricatures and adds something to them. The rest of the cast, under Pam McKinnon's uncharacteristically heavy direction, is still struggling to make sense of Wasserstein's constantly self-cancelling feints and curlicues. Moss, who has a stage star's face, pulling light into it, comes closest: She understands and convincingly captures Heidi's self-diagnosed combination of worthlessness and superiority. But what she pulls in she does not give back; it's a very inward performance. How could it not be? Except in the art-history lectures that serve as delightful prologues to each act, and in the climactic nervous breakdown of a speech she delivers to a gathering of high school alumnae, Heidi, for all her stage time, doesn't actually have much to do. She's not just an emotional wallflower but a dramatic one.
In contrast, Bryce Pinkham as Peter and Jason Biggs as Scoop are forced into ever widening behavioral oscillations. It's not unrealistic that Scoop should grow more thoughtful even as he becomes more of an asshole, making Heidi, as a beneficiary of the former, complicit in the latter. But Peter's transformations are harder to fathom. After coming out with a vengeance — and a misjudged lisp — he gets weirdly angry, perhaps because the playwright is forcing him to encompass all of late-20th-century gay history, including AIDS, in a few scenes. On the other hand, the uncomfortable alliance of the women's movement and the gay movement, with its frequent crossed signals and occasional betrayals, is nicely illustrated in the pushmi-pullyu of Heidi and Peter. Unfortunately, if perhaps unavoidably, that central relationship of the play is left unresolved.
Nearly everything is, except Heidi herself. While the other characters all grow less coherent, she finds clarity, if also loneliness. (We never meet the series of men, mostly editors, she always tells Scoop she's "seeing.") It's an odd place for Wasserstein to have taken her stand-in — and, to be honest, it left me with the sour feeling that she had pulled her punches. Scoop and Peter act out and lash out, her various girlfriends grow flighty or marginal, but Heidi manages to become a success in her work, and to have a child if not a husband, without ever being the tiniest bit unkind to anyone, whatever the provocation. She's externally blameless; all her sins are against herself. Hard to say whether that's the result of the character's compulsive funny-girl ingratiation, or the playwright's.
The Heidi Chronicles is at the Music Box through August 9.