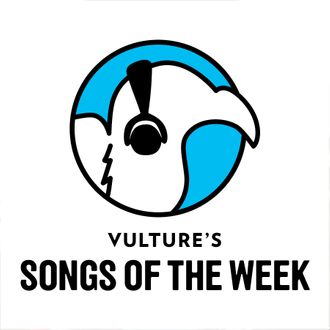 Every week, members of the Vulture staff highlight the best new music of 2015. We do not discriminate; as long as the song is worthy of your ears and attention, you will find it here. Read our picks below, share yours in the comments, and subscribe to the Vulture 2015 Playlist for a comprehensive guide to the year's best new tunes.
DonMonique, "Pilates (Kendall, Kylie, Miley)"
If you like viral hypebeast hits littered with pop-culture name-drops, then Brooklyn's DonMonique has a banger for you. Play this one next to Rihanna's "Bitch Better Have My Money," rap along with the song's punch line ("I can make the work stretch"), and your next pregame is guaranteed to be lit. —Dee Lockett (@Dee_Lockett)
ILoveMakonnen feat. Migos and Rich the Kid, "Whip It (Remix)"
ILoveMakonnen dropped a mixtape today that is a great balance of ballads and bangers, but I was happy to see this song on it because I can blast it as an excuse to get the youths to teach me how to do those Vine Star–worthy dance moves over my timeline. —Marcus Jones (@MarcusJonesNY)
Jamie xx feat. Romy, "Loud Places"
With as much output as Jamie xx (of the xx) has given us over the last few years, it's hard to believe he'll only release his debut album this June. And from the looks of it, we're in for something special. He's premiered two tracks so far: "Gosh," a pulsating, sample-driven instrumental, and "Loud Places," a gentler, dreamy tune that matches his clunky sound effects with Romy's lush vocals in all the right grooves. Hearing Jamie play this one at festivals this summer is bound to be a real treat. —DL
Kehlani, "How That Taste"
Besides being able to sing her ass off, Kehlani feels bold and authentic. When she sings "Man, the whole damn fam gon' touch the sky with me," you believe it. —MJ
My Morning Jacket, "Spring (Among the Living)"
Who's ready for spring? Southern rockers My Morning Jacket have returned with a new single to help you start leaving your apartment once again. It's time to "face the living." If you're not ready for spring, this song is kind of a slow burner, so just put it on repeat until you're prepared to see men in shorts. —Lauretta Charlton (@laurettaland)
The Staves, "No Me, No You, No More"
Every once in a while, an album comes along that just breaks you. For me so far this year, that has been the Staves' sophomore album, If I Was, an unexpected master class in both vulnerability and resilience. Produced by Bon Iver's Justin Vernon (which should give you a hint of its breathtaking sound), its best song, "No Me, No You, No More," explores the transformative experience of heartbreak and what it means to face the new day on your own. It's sung so stunningly by the three sisters that, devastating as it is to bear, you can't help but play it on loop. —DL
Tei Shi, "Go Slow"
Tei Shi is a name you need to know in 2015, if you don't already. This week the Brooklyn singer releases her new EP, Verde, and it's chock-full of incredibly strong pop songs — the best being "Go Slow." It starts off with a sensual James Blake–esque vibe that gets enveloped in a massive, punchy vortex of synths and addictive melodies once that hook kicks in. It's one of my favorite songs this year. —DL
Toro Y Moi, "Run Baby Run"
This new Toro Y Moi single sounds like an afternoon on the beach. It plays with pop sounds from the '50 and '60s and it's more guitar-driven than his previous work, which isn't a bad thing. —LC
Wale feat. SZA, "The Need to Know"
Jerry Seinfeld's new BFF gets a lot of crap for being an emotional rapper before it was cool, but I believe the DC rapper is at his best over a beat with a tinge of acoustic guitar, going back and forth with a young singer-songwriter — especially one as talented and soulful as SZA. —MJ
Paul Weller, "White Sky"
Paul Weller could have retired after the Jam, but he's still making music — and it's good. Take, for example, "White Sky," a blistering, bluesy sonic assault that proves Weller, now 56, still has a little Teddy Boy left in him. —LC
Do you like good music? Of course you do! Subscribe to Vulture's 2015 Playlist to hear the new music we're listening to every week.