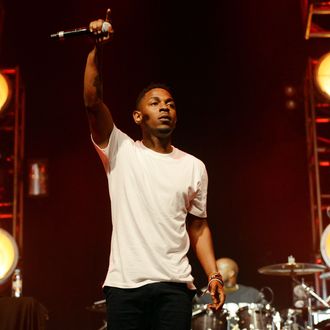 Kendrick Lamar.
Photo: Rune Hellestad/Corbis
Following the announcement of his forthcoming follow-up record, Kendrick Lamar unveiled his still-untitled album's artwork via Instagram early Wednesday morning. Many of the details surrounding this project are still nebulous, but as Pitchfork points out, Lamar's cryptic upload features a parental advisory tag. Top Dawg Entertainment's CEO Anthony Tiffith, who reps Lamar on his label, also penned a convincing tweet with the image, saying, "You ask 4 it … now u got it." For the picture's caption, Lamar wrote: "'Don't all dogs go to heaven? Don't Gangsta's boogie? Do owl shit stank? Lions, Tigers & Bears. But TO PIMP A BUTTERFLY. Its the American dream nigga….' - lil Homie." It's possible To Pimp a Butterfly could be the title; evidently, we'll know for sure when the 16-track project drops March 23, a.k.a. Christmas in spring. For now, feast your eyes on the striking black-and-white art:
Update: Rolling Stone confirms that To Pimp a Butterfly is the title of Kendrick's new album.
.