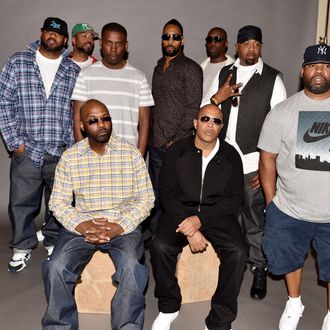 Wu-Tang Clan.
Photo: Kevin Winter/Getty Images
Wu-Tang Clan's forthcoming final album, Once Upon a Time in Shaolin, is one of a kind, worth upward of $1 million, and on the verge of becoming annoying. What began as a potential gimmick had shown signs of being a noble endeavor. "The music industry is in crisis. Creativity has become disposable and value has been stripped out. Mass production and content saturation have devalued both our experience of music and our ability to establish its value," reads an edict on a site associated with Wu-Tang and the album. "Industrial production and digital reproduction have failed. The economic and experiential value of music are being eroded at an exponential rate. This album is a work of contemporary art." But then RZA announced that the public would have to wait 88 years for their own copy of the record, and a large portion of the population concerned with Wu-Tang effectively lost their marbles.
Wu-Tang member Method Man's incredible reaction, via XXL on Wednesday, summed up the general sentiment:

What do you mean 88 years? … Fuck that album, I'm tired of this shit and I know everybody else is tired of it, too. Fuck that album, if that's what they are doing. I haven't heard anything like that, but if they're doing crap like that, fuck that album. Straight up. I'm just keeping it 100. When music can't be music and y'all turning it into something else, fuck that. Give it to the people, if they want to hear the shit, let them have it. Give it away free. I don't give a fuck; that ain't making nobody rich or poor. Give the fucking music out. Stop playing with the public, man.
Then RZA and Cilvaringz clarified the 88 years issue on Twitter (it's also explained in more detail here):
Earlier in the week, as Cilvaringz (the producer of Shaolin) was heading from Morocco to New York City for a listening session, something even more incredible happened: The customs officers seized the album, contained in a locked box, partially because the key was nowhere to be found, but also because it's unfair and TSA is already over the hype. According to "Page Six," the TSA ran the box through the airport's highest-strength scanner and it's now with its rightful owners. (But we will never forget the moment the TSA almost became the musical incarnation of Robin Hood.) The album will be sold by Paddle8 to the highest bidder, and then we may or may not be able to play our own copies of it in our convalescent homes.